&nbsp Coventry, Connecticut GenWeb&nbsp
---
COVENTRY HISTORY
COLONIAL CONNECTICUT RECORDS
The Public Records of the Colony of Connecticut, 1636-1776
CONNECTICUT STATE LIBRARY
Genealogy records at the Connecticut State Library
PUBLIC RECORD OF THE COLONY OF CONNECTICUT, 1711
Coventry is born...
COVENTRY'S FREEMAN LISTS, 1738-1803
Transcribed from original town records.
COVENTRY IN THE WAR OF THE REVOLUTION
Includes Various veterans' census and pension records.
Some are for ALL of Tolland County.
HISTORY OF TOLLAND COUNTY CONNECTICUT - COVENTRY,
by J. R. Cole, 1888
THE EARLY HISTORY OF COVENTRY, CONNECTICUT,
by John Scarchuk
HISTORIC SKETCH OF COVENTRY, CONNECTICUT
prepared by Maude Gridley Peterson
Official Program of the Bicentennial Celebration
Another Great resource from the official Coventry, Connecticut web page!
LETTER FROM ROYAL TYLER TO EZRA HUTCHINS Esq
Letter written in 1805 names Royal Tyler of Coventry, Ezra Hutchins
of Killingly, "Mammy" Watson of Thompson, & someone at the Hartford Bank
---
COVENTRY CEMETERIES
COVENTRY CEMETERIES
Names, locations, date ranges, and links to transcriptions.
THE CONNECTICUT GRAVESTONE NETWORK
Important information for anyone interested in gravestones and cemeteries
HALE COLLECTION OF CONNECTICUT CEMETERY RECORDS
Links to Charles R. Hale Collection for all Connecticut Counties
---
CENSUS AND VITAL RECORDS
1790 U.S. CENSUS, COVENTRY, TOLLAND CO., CT
(scanned pages take time to load)
1840 U.S. FEDERAL CENSUS OF PENSIONERS
Coventry, Tolland Co., Connecticut
ORIGINAL INDEX TO OLD COVENTRY VITAL RECORDS
Compiled between 1768-1785 - a great early census of sorts
RECORD OF DEATHS, NORTH COVENTRY, 1826-1869
Connecticut State Library, 1929
Digital image © Connecticut State Library. All rights reserved.
Images may be used for personal research or non-profit educational uses without prior permission.
Use your Back Button to return to this page. This document requires Adobe Acrobat Reader.
DEAD ENDS IN COVENTRY?
MISSING RECORDS DOCUMENTED BY
Jan (Wilson) Ramos
CONNECTICUT DIVORCES
Includes Coventry, Connecticut
Availble at the Connecticut State Library, Hartford, CT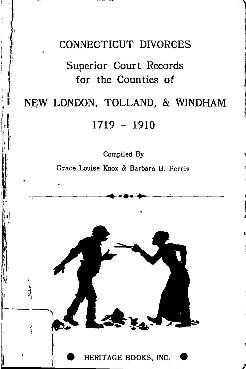 DUNHAM - WILCOX - TROTT - KIRK
by Jane Devlin
Although named for Jane's grandparents, this web site contains vital records,
cemetery records, and more for Tolland Co., Connecticut and Northampton,
Massachusetts where so many Coventry settlers came from. There are over
2100 data files for CT, MA, RI, NJ, NY & MI including over 400 will &
probate files, 300 deeds & over 300 gravestone photos from Middlesex Co.,
Connecticut, in the Reference Data section with additions being made weekly.
---
COVENTRY CONNECTIONS
UK FAMILY HISTORY RESEARCHER
Coventry, England Research Specialist
---
COVENTRY RESOURCES
TOWN OF COVENTRY, CONNECTICUT
Birthplace of Nathan Hale
BOOTH AND DIMOCK MEMORIAL LIBRARY
Coventry, CT
THE COVENTRY HISTORICAL SOCIETY
Connecticut State Library Digital Collections
LOOK-UP VOLUNTEERS AND LOCAL RESEARCHERS
Ask a volunteer for help or
hire a local researcher for a tough job.
---
"YE OLDE DOCUMENTS" are deeds and wills of my ancestors that I obtained as part of my personal research. Most are from colonial Coventry, CT and name town officials, neighbors, and other Coventry citizens. I'm sharing them with you as another means of placing your ancestor in a particular place at a particular time in history. Enjoy!
---
U.S. GenWeb Project
TOLLAND COUNTY, CONNECTICUT GENWEB PROJECT
U.S. GenWeb Archives
CONNECTICUT GENWEB PROJECT ARCHIVES
My Other Web Sites
HINTON TOWNSHIP, MECOSTA, MICHIGAN GENWEB PROJECT
GENEALOGY BY JAN
My personal genealogy research
---

EMAIL COVENTRY, TOLLAND, CONNECTICUT GENWEB PROJECT
Coventry, Tolland, Connecticut GenWeb Project
by Jan (Wilson) Ramos
Copyright © 2015, US GenWeb Project.
All rights reserved.
Last updated 16 Mar 2015