The town of Stonington was first settled under the leadership of William Chesebrough, who had come to visit John Winthrop's settlement at Pequot (later New London), but preferred the region further east. He built in 1649 a house and settled with his family, supposing he was within the boundries of Massachusetts. The General Court of Connecticut, however, claimed jurisdiction of the region. In 1652, after considerable effort, he obtained a grant for himself and his sons. Other settlers came gradually, amongst whom were Thomas Stanton, Thomas Miner, Governor Haynes, Walter Palmer, Capt. George Denison, Capt. John Gallup, Robert Park, and their families.

In October 1659, the Massachusetts Court granted that the English plantation between Mystic and Pawcatuck be named Southertown, and to belong to the County of Suffolk. The first small meeting house was built May 13th, 1661.

Gov. John Winthrop procured the new charter from King Charles II which fixed the eastern line of Connecticut at Pawcatuck river, which included the township of Southertown.


Stonington was incorporated in 1807. It covers 42.7 square miles which includes Mystic, Old Mystic, Borough of Stonington, Pawcatuck and Stonington.







---
LOCAL CONTACTS
Stonington Town Clerk
Town Hall
Elm Street
PO Box 352
Stonington, CT 06378
860-535-4721
Stonington Free Library
20 High Street
Stonington, CT 06378
Stonington Historical Society
PO Box 103
Stonington, CT 06378
860-535-1131
First Settlers of Stonington

Mystic & Noank Library
40 Library Street
Mystic, CT 06355

---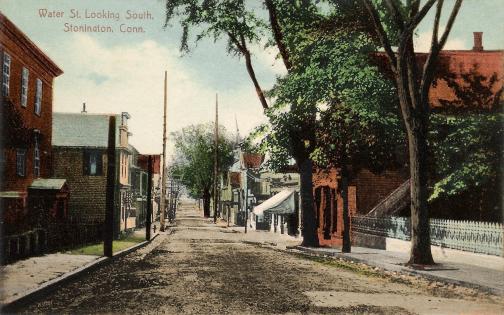 LOOKUPS FROM PUBLISHED RESOURCES

Larry Sugden (LWSugden@worldnet.att.net) is willing to do lookups in Thomas J. Goodwill's book, "Three Hundred Years In America - A History Of The Goodwill Family." The book focuses on the Goodwill families of Stonington, CT. It has many other surnames, history and anecdotes.

Donna Campbell (dcamp48@hotmail.com) will do lookups from Everett Pendleton's book, Early New England Pendletons. It has a great deal of information regarding the descendants of Brian Pendleton who lived in Stonington and the area beginning in 1745.


---


OTHER RESOURCES





©1999-2016 Pat Sabin for the New London County CTGenWeb




If you have any problems with the links on this site, or if you'd like to make a contribute information for the site,
please contact Pat Sabin, and put "Stonington" in the subject line.