Welcome | New | Cemeteries | Query | Photos | Probate | Town Index | Links | Lookups | Search


FITCH VETERAN'S CEMETERY, DARIEN
---
Fitch Veteran's Cemetery is located on the edge of Spring Grove Cemetery, at the intersection of Hecker Avenue and Post Road. It's entrance is marked by a stone archway leading to a circular drive. In the middle of the drive is a tall flagpole with statues of soldiers and sailors about it. The sculpture was done by Karl F. Lang and stands more than ten feet high. (See CHS link below.) The stones marking 2,184 graves are white military stones, all arranged in perfect rows, some more weathered by time than others.
For more information, see:
---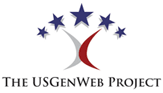 If you have questions, comments or contributions to this collective effort,
please e-mail Darien Town TC, Amanda Goodman.
In remembrance of Karen Steel (1947-2012), former Darien Town Coordinator,
who generously gave of her time to the researchers of Fairfield County.

© Copyright 1996 to 20016. Created September 2003. Updated 1 January 2016.