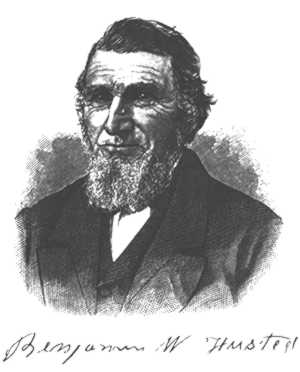 "CAPT. BENJAMIN W. HUSTED is the only living son of William Husted and Mary Lyon, and was born in the town of Greenwich, Conn., Jan. 15, 1808. His great-grandfather was David Husted (See history of James Husted, Sr.), who had a son Abraham, who married Hannah Knapp, and had two children, one of whom was William Husted. Abraham was a lieutenant in the Revolutionary War, and was a farmer by occupation. William Husted was born in 1783, in the town of Greenwich, Conn., and died in 1838. He married Mary Lyon and had the following children,--viz., Benjamin W., Israel, Hannah, who married Husted Hobby; Phebe Ann, married Caleb W., Merritt; David, and William H., all of whom are now (1880) dead except Benjamin W. and Phebe Ann.
Mr. Husted was a farmer, and lived one mile south of where his son Benjamin W. now resides on a farm which was in the family several generations.
Benjamin W. has always been a practical farmer, receiving the advantages of a common-school education till he was fifteen years of age. On the 24th of Dec., 1827, he married Rachel P., daughter of Enon and Elizabeth (Webb) Lyon. She was born Nov. 16, 1806. Their children are as follows.,--viz., Julia (deceased), Israel G, who does business in New York City; Theophilus P., (deceased) and Eliphalet P., who is a farmer (twins); William E., also a farmer.
Nathaniel L. was a soldier in Company I, Tenth Connecticut Volunteer Regiment; served three years, was in all the engagements of his regiment, and was wounded in both ankles and in his left knew at the same time, and received an honorable discharge Oct. 2, 1864., since which time he has resided at home on the farm. Mary E., married Alexander G. Knapp, who is a farmer near Council Bluffs, Iowa. Mr. Husted settled on his present farm in 1828. He is a Republican in politics, though he cast his first presidential vote for Gen. Jackson at his second election. Mr. and Mrs. Husted are members of the Congregational Church at Greenwich, Conn.
He has held several town offices, and was a captain of a company of State militia for a great many years, and is known as Capt. Benjamin Husted. He is one of Greenwich's best citizens, a man universally respected."
---
*[NOTE: This biography was published in 1881 (and written in 1880, see above) and does not offer "proof" of early Husted family history. This information should be used only as clues to suggest other record sources.--mp]
SOURCE: Hurd, D. Hamilton. History of Fairfield County, Connecticut. Philadelphia: J.W. Lewis & Co. (1881), p. 401.
---
ADDITIONAL HUSTED FAMILY INFORMATION:
Remington, Gordon L., FUGA. "Robert [2] Heustis of Westchester: His Ancestry and Descendants" New York Genealogical and Biographical Record, Volume 129, Numbers 1, 2, 3 (January, April, July 1998 ).
---