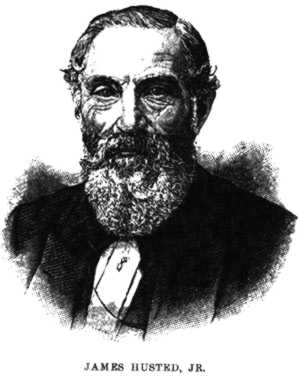 "JAMES HUSTED, the grandfather of this sketch was Benjamin Husted (1), who married Sarah Newman, and had the following children, --viz.: Benjamin, Nathaniel, Sarah, who married Titus Reynolds; Deborah, who married Nathaniel Reynolds; Martha, who married James Brush; Rachel, who married John Delavan; Mary, who married John Mead; and Zuba, who married Stephen Palmer, all of whom were born in the town of Greenwich, Fairfield Co., Conn.

Benjamin Husted was a farmer by occupation, lived an honorable life, and died at an advanced age. His son Nathaniel married Ruth Sniffen, and had the following children, viz.: James, Nathaniel, Samuel, Benjamin, Jonathan, Rachel, and Mary, all born in Greenwich, Conn. He was also a farmer.

James Husted, son of Nathaniel, was born in June 1786, and died Sept. 23, 1852. he always resided on the old farm, no owned and occupied by his aged widow. he was one of the successful farmers of the town, and blessed the community in which he lived by his generous deeds.

Very early in life he united with the Methodist Episcopal Church at Round Hill, where he resided and became one of its most active and leading supporters. He was known by his hospitality, and many are the ministers who found his house a welcome place. He was a steward, class-leader, and superintendent of the Sunday-school for a great many years.

On the 12th day of January, 1825, he married Mary B., daughter of Benjamin Husted and Sarah Dayton, and granddaughter of Benjamin Husted and Sarah (Newman) Husted. She was born in the town of Greenwich, Conn., May 22, 1793, and now (October, 1880), like her brother, Col. Conklin Husted, retains her faculties remarkably well. She has been a life-long member of the Congregational church, but attended the Methodist Episcopal Church."

"Solomon Mead is a lineal descendant on both the paternal and maternal side from John Mead, an Englishman, who came to America and settled in Hemp stead, L.I., soon after, where he remained until October, 1660, when he came in all probability, to Greenwich, Conn., in company with his two sons, John and Joseph * (For a full history of Solomon Mead's ancestors, see biography of Col. Thomas A. Mead.)

---
*[NOTE: This biography was originally published in 1881 (see above) and does not constitute "proof" of authentic historical fact or early Greenwich, CT or Mead family history. I simply offer it as clues to further research.--mmead]

SOURCE: Hurd, D. Hamilton. History of Fairfield County, Connecticut. Philadelphia: J.W. Lewis & Co. (1881), p. 400.

Remington, Gordon L., FUGA. "The English Origin of William [1] Mead of Stamford, Connecticut." The American Genealogist (TAG). Whole Number 289, Vol. 73, No. 1. January 1998.

---
MEAD, Spencer Percival. History and genealogy of the Mead Family of Fairfield Co. CT, Eastern.NY. New York: Knickerbocker Press, 1901.

---
Draper, Cecil Mead. Jonathan Mead of Rensselaerwyk and some of his descendants. With a shorter sketch of a single line of Williams, Mass., Conn. New York. Denver: 1972.

---
Feltus, Louise Celestia (Mead).Our Two Centuries in Greenwich Conn., 1728-1924. Troy, NY.: R.H. Prout and Co., 1948. .
---
Parker, C.E. The Mead family of Connecticut. Santa Ana, CA: 1968.