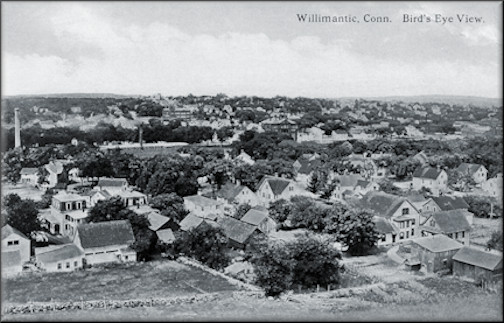 Windham County CTGenWeb
Below is a list of the towns in Windham County, Connecticut. You may go to each town to view a short history and, in some cases, records and photos. If you have information you would like to share, please contact the County Coordinator.


Please note that many of the town sites were created years ago and are not monitored. However, we do not want to remove links to valuable information. Your contributions are welcome. No contribution is too small. A single obituary may be just the clue a fellow researcher needs. You may get some ideas from If you would like to make a contribution to the Windham County CTGenWeb, please contact Pat Sabin, County Coordinator.


ASHFORD
Established Oct 1714
Hosted by Andrew Franklin
BROOKLYN
Established May 1786. Lands taken from Pomfret and Canterbury

Original Page Created by Julie Middleton


CANTERBURY
Established Oct 1703. Lands taken from Plainfield
Original Page Created by Julie Middleton
CHAPLIN
Established 1822. Lands taken from Windham, Mansfield, Hampton
Hosted by Andrew Franklin
EASTFORD
Established May 1847
Hosted by D. Putnam
HAMPTON
Established Oct 1786.
Lands taken from Windham, Pomfret, Brooklyn, Canterbury, Mansfield
Site Developed by Deb Inman
KILLINGLY
Established May 1708
Site Developed by Julie Middleton
PLAINFIELD
Established as Quinabaug May 1699. Named Plainfield Oct 1700
Page Created by Julie Middleton
POMFRET
Established May 1713
PUTNAM
Established May 1855. Lands taken from
Thompson, Pomfret, Killingly.
City Inc. Jan 1895. Town and city consolidated Nov 8, 1983.
Page Created by Julie Middleton
SCOTLAND
Established May 1857. Lands taken from Windham
Hosted by Andrew Franklin
STERLING
Established May 4, 1794. Lands taken from Voluntown
Created by Julie Middleton
THOMPSON
Established May 1785. Lands taken from Killingly
Original Page Created by Julie Middleton
WINDHAM
Established May 1692. City of Willimantic Inc. Jan 1893.
Town of Windham and City of Willimantic consolidated July 1, 1983
*This page is not actively hosted and not monitored
WOODSTOCK
Settled 1686 as New Roxbury. Name changed March 1690 to Woodstock.
Annexed to Connecticut May 1749

Copyright © CTGenWeb 2008-2017
Please contact Pat Sabin
to make a contribution to the Windham County CTGenWeb
For ideas, please visit this page: Contribute

Home | Query | Records | Volunteers | Links
CTGenWeb | CTArchives | USGenWeb