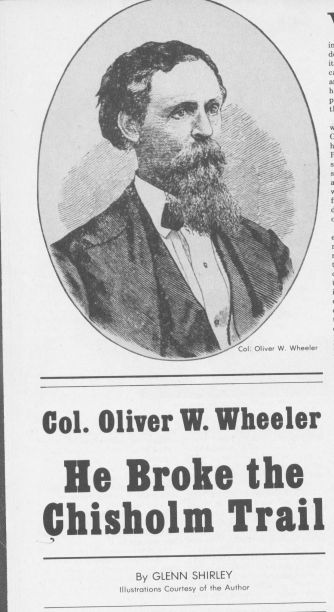 A relative to be proud of:
"First man to drive cattle through Indian territory". I was intrigued when I saw this inscription on a memorial stone in Elm Grove Cemetery in Mystic Connecticut. He was the brother of Irving Augustus Wheeler, my great grandfather, and I knew nothing about him. The inscription also said he was buried in Shoshone Idaho. I had been researching my Stonington Connecticut lines and wanted to know about this relative. It was years before I broke through the brick wall and learned the details of this man's fascinating life. Even now there are a few missing pieces which may never be found.
Out of the blue a couple of years ago I received an email from Jim Gray in Kansas whose hobby is researching cattle drovers. He had seen a genealogical query I had posted years before with a different email address. Somehow he found my current email address and wrote saying he knew who O. W. Wheeler was. Did he ever! He sent me several articles written about "Colonel" Wheeler (Colonel is an honorific often given in those days to successful wagon masters). The next breakthrough came from a genealogist in Idaho who found his gravesite for me.
Oliver Wheeler was born March 26, 1830 in Stonington Connecticut to Charles Phelps Wheeler and Nancy Hewitt Wheeler. He was the brother of Frances, James, Caroline and Warren. He became ill with tuberculosis and left home at fifteen seeking a better climate for his health. He landed in Panama where he contracted a tropical fever (probably yellow fever). Upon reaching California he slowly regained his health although he was never strong. He worked several jobs – mining for gold which was too strenuous, mercantile sales and eventually freighting merchandise to mining camps. His wealth increased and he ventured into the stock business – sheep, cattle and horses. By the age of twenty five Colonel Wheeler was heading up huge cattle drives through several states including the one that answers the puzzle of the inscription on his memorial stone. He left San Antonio Texas with 2400 longhorns, many horses and 54 cowboys heading into wilderness territory inhabited by warring Indians and into Kansas. Over the years he spent in the stock business he was known for buying cheap, undernourished stock, fattening them up and driving them to market thereby making a good profit.
Until 1874 Colonel Wheeler was a well known figure in the western cattle business. Strangely, in 1874 he became a mystery. He was listed in the 1880 census as a boarder with seven others in Kansas City at the home of Adeline Ford. His occupation was given as "stock business." There are genealogical hints that he had married a woman named Antoinette Norton, but no records of her or their marriage exist. Had she died? Did they have children? No one knows. The Wood River News (Idaho) of February 17, 1890 reads "Col. W. E. (sic) Wheeler, the well known stock grower of Soldier of Camas Prairie died at Dewey House in Shoshone Monday night of influenza complications." He is buried in the Shoshone Idaho Cemetery, Block 9, Lot 7 and he is alone. The inscription says February 16, 1890, "gone but not forgotten." The inscription on the memorial stone in Elm Grove Cemetery reads February 17, 1890. Between 1874 and 1890 his life is a blank slate. (See photographs below).
Oliver Wheeler was related to all the original founders of Stonington , Connecticut – Chesebrough, Palmer, Stanton, Miner and Denison plus other important Stonington families such as Parke, Breed and Gallup. Twenty three generations back from Oliver was my favorite ancestor born in 1267, Fulk LeStrange. Twenty eight generations into the distant past lived his 28th grandfather, the Emperor Charlemagne.
Without the information found in the following, I would not have been able to complete my search for my great uncle. There are still holes in the quilt of his life which I hope will be mended some day.
• "He Broke the Chisholm Trail" by Glenn Shirley. This was published in the magazine "True West", October 1988.
• Jim Gray of Drovers Mercantile in Ellsworth, KS who is a researcher of cattle drovers.
• www.findagrave.com
• Charlotte Slater, Shoshone historian
• "History of Stonington, Connecticut" by Richard Anson Wheeler
• "California Trail Herd" by Cyrus C. Loveland
Lorraine Hilton
Coventry, RI
Ford888@verizon.net