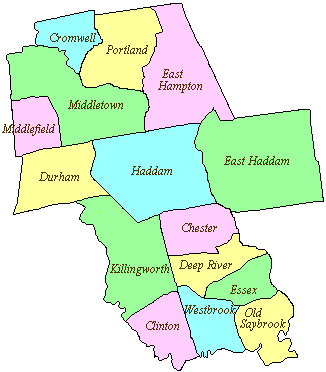 See town list below

---
Middlesex County was established in 1785 from Hartford, New London, and New Haven Counties.
---
Middlesex County Cemeteries This site has published burial records for several Middlesex County Cemeteries. They would like the public to contribute records of burials to the site.
Jane Devlin has developed a new

mailing list

for Middlesex County and it is now available on RootsWeb. To subscribe in MAIL mode, send a message to

CTMIDDLE-L-request@rootsweb.com that contains the word subscribe in the body of the message. For DIGEST mode, use the address CTMIDDLE-D-request@rootsweb.com.
Either version will work best if there is no subject, and nothing in the message portion other than the word "subscribe".
If you have any reference books or CDs on this county and would like to volunteer to do lookups, please,
let me know
.
When requesting a lookup, please follow these guidelines:
Put Middlesex County Lookup in subject of message.
Put name of book or CD you are requesting in the first line of the message as many of these wonderful people have volunteered to look up several things.
Limit your request to 1 or 2 specific names.
Don't forget to thank your volunteer for his or her time and effort!
LOOKUP VOLUNTEERS:


February 11, 2005: Jodi Brazal has volunteered to do lookups in East Hampton. Jodi is willing to do cemetery lookups and still photos, town records, etc. in East Hampton. Jodi Brazal
---
Middlesex County Links


If you would like to volunteer to coordinate the resources of any of the towns listed "Adopt Me" below, please e-mail me for info.
Town

Date
Formed

Parent Town

Contact

1836

Saybrook

1838

Killingworth

1851

Middletown

1635

Name Saybrook until 1947

1708

None

1734

Haddam

1767

Middletown (name Chatham until 1915)

1852

Saybrook (name Old Saybrook 1852-1854)

1668

None

1667

None

1866

Middletown

1651

None

1841

East Hampton

1852

Old Saybrook/Essex

1840

Saybrook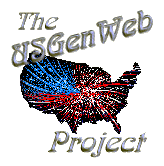 Middlesex County GenConnect Resources
---
DUNHAM - WILCOX - TROTT - KIRK: Jane Devlin has done an outstanding job of creating a site. This site has many records that pertain to Middlesex County. It is continually being updated, so check back often. Some of the information is the posting of the Barbour Collection, just to name some.
---
Mortimer Cemetery Coralynn Brown has recorded the inscriptions for the Mortimer Cemetery in Middletown, and it is posted at this location.
---
Tom Bombaci, Jr.'s page. Dated. Some Middlesex County surnames.
---
Chuck Arnold's page on Northeast ARNOLDs.
---
Godfrey Memorial Library in Middletown, CT. An excellent resource for Genealogical research in Connecticut.
---
RETURN to the Connecticut USGenWeb Project

Last updated: 20140512. Maintained as of 20090906 by Tom Bombaci, Jr., Grants, NM