Welcome | New | Cemeteries | Query | Photos | Probate | Town Index | Links | Lookups | Search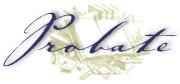 ABSTRACT OF PROBATE RECORDS AT FAIRFIELD, COUNTY OF FAIRFIELD, AND STATE OF CONNECTICUT.
BY SPENCER P. MEAD, L.L.B. Volume 10, 1748 - 1755. Page 245

Transcribed by Geri Ryerson K.

---

YOUNGS, Ruth, (continued from page 244), brother and other sisters not named. Executor brother in law James Beard. Witnesses Samuel Beard, Jr., David Beard, and Samuel Adams, page 110.

---

Special thanks to Geri Ryerson K,

for the untold hours and days transcribing the scanned pages in order to share with the CTGenWeb Project.
---
If you have questions or comments or contributions regarding this volunteer collective,
please E-mail Maureen Mead - Hillsboro, OR.
© 1996 to 2004. Created Jan 17, 2004. Updated Tue, Jan 20, 2004

Welcome | New | Cemeteries | Query | Photos | Probate | Town Index | Links | Lookups | Search