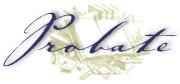 ABSTRACT OF PROBATE RECORDS AT FAIRFIELD, COUNTY OF FAIRFIELD, AND STATE OF CONNECTICUT.
BY SPENCER P. MEAD, L. L. B. Volume 1, 1648 - 1656. Page 6.
Transcribed by Geri Ryerson K
---
EGGLETON, John, late of _____< inventory taken by Mohill Try and John Wheeler, and filed Oct. 20, 1659, and estate ordered distributed to his widow Abigail Eggleton, and one child John, born Sept. 4, 1657, and Nathaniel Sely appointed his overseer, and in 1661, he was transferred from the care of the said Nathaniel Sely to the care of Joseph Middlebrook and Daniel Silliman, pages 55 and 66. (probably the widow is now wife of Daniel Silliman).

FERRIS, Jeffery, of Greenwich, 1661, engaged to pay the legacies of the estate of Robert Lockwood, by reason of his marriage with his wife Susanna, (now deceased), widow of the late Robert Lockwood. Witnesses Nathan Gold and William Hill, page 65.

FINCH, Daniel, and Elizabeth Tomson, widow of John Tomson, both of Fairfield, antenuptial agreement fated June 25, 1657. Witnesses Francis Hall and George Godwin, page 37.

GODWIN, George, late of Stratford, will dated probated Oct. 6, 1658, mentioned his wife Elling and Children, Samuel, Mary, (who married 1st Joseph Jackson and 2nd Joseph Sely), and John. Executrix his wife. Witnesses Thomas Sherwood, Samuel Fordman, Brogan Hind, and Moses Hoitt, page 34.
Inventory taken by Samuel Drake and Alexander Knowles, and filed Oct. 30, 1658, page 35.

GRAY, Henry, Late of ____, inventory taken by Andrew Ward and John Wheeler, and filed Oct. 15, 1658, page 27.

GREGORY, Henry, late of ____, June 19, 1655, estate distributed to his eldest son John, page 5.

HARVY, Edmond, late of ____, Jan. 21, 1648, estate distributed to his children by his first wife, Viz: a daughter in England, 28 years of age, a daughter here, 18 tears of age, and another daughter here 14 years of age; by his widow, who was the wife of Nathan Gow in 1655, son Josyae, 7 years of age, and daughter Hannah, 2 years of age, page 88.

---
Special thanks to: