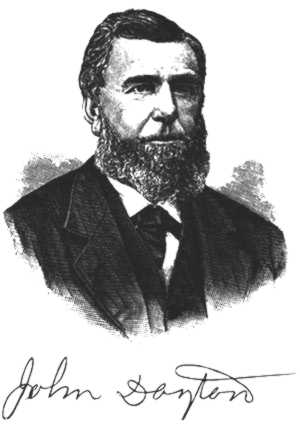 " John Dayton is the eldest son of David Dayton, and grandson of David Dayton, and was born in the town of Greenwich, Fairfield Co., Conn., Feb. 5, 1828. Nothing is known of his ancestors farther back than his grandfather, David, who was born at East Hampton, L.I. in 1761; married Jan. 21, 1789, to Elizabeth Osborne, who was born at East Hampton, L.I., in 1776.*
David Dayton, Sr., was a tanner and currier, and boot and shoemaker by trade. he settled in the town of Greenwich, Conn., towards the close of the eighteenth century, where his children were born. His wife died April 10, 1837, and he died Jan. 23, 1838. Their children were as follows, viz.: Betsey, born Nov. 9, 1790; Jacob, born March 10, 1798; Amy, born Feb. 3, 1800; and Mehitable, born June 21, 1802.
David Dayton, the second, was born in Greenwich, Conn., where he followed the occupation of a farmer. He was a Democrat of the Jeffersonian and Jackson school, but never took any active part in politics, always preferring the quiet of home to any official honors. He married Elizabeth Brush, March 6, 1827.
Both Mr. and Mrs. Dayton were worthy members of the Methodist Episcopal Church. Mrs. Dayton died Sept. 20, 1863, in Greenwich,the town of her nativity. Mr. Dayton died Jan. 26, 1872. he was a good citizen and neighbor, a kind husband, and an affectionate father. He left the record of an honest, industrious life, and a good name as the precious legacy to his descendants. Their children are as follows, viz.: John, born Feb. 5, 1828; Sarah, born Feb. 15, 1830; Charles, born Dec. 4, 1832; Henry, born Sept. 10, 1834; Mary E., born Dec. 28, 1836; David O., born Feb. 23, 184; and George, born Aug. 22, 1842; all of whom were born in the town of Greenwich, Conn.
John Dayton remained at home working on his father's farm summers and attending the district school winters until he was eighteen years of age, when he began to learn the shoemaker's trade, which he followed, more or less, till he was twenty-six years of age. Oh the 29th of September, 1851, he married Matilda, daughter of Shadrach Selleck, a native of Stamford, Conn. They have one daughter, Mary Frances. In the spring of 1852 Mr. Dayton settled in the village of Greenwich, and opened a boot-and-shoe store, where he is now (October 1880) engaged in business. In politics, he follows the footsteps of his father's, and is a Democrat, and as such is one of the leading men of his town. he has been a constable for twenty-six years; deputy sheriff six years; warden of the borough several years; assessor many years; postmaster under President Andrew Johnson's administration; and member of the state Legislature during the years 1870 and '71. The first year he was in the Legislature he serve on the committee of State prisons, and the second year on the humane committee. he has often been a delegate to town, county and State conventions. Mr. Dayton is a man universally respected; even his bitterest political opponents are among his warm personal friends. He is an honest, upright citizen, and to him,more than any other man in his town is due the credit of the great interest manifested by the people of Greenwich in the history of Fairfield Co., Conn.
His brother, George Dayton, was a soldier in Company I., Tenth Connecticut Volunteer Regiment, in the great civil war; was in several engagements, and was wounded by being shot through his right lung at Newberne, the ball passing out below his left shoulder-blade, lodging in his coat. At the present time he is connected with the Broadway Fire Insurance Company, New York."

---
SOURCE: Hurd, D. Hamilton. History of Fairfield County, Connecticut. Philadelphia: J.W. Lewis & Co. (1881), p. 407.
---
*NOTE: This biography was published in 1881 and does not offer "proof" of Dayton family history. This information should be used only as possible clues to other sources.--mmead.