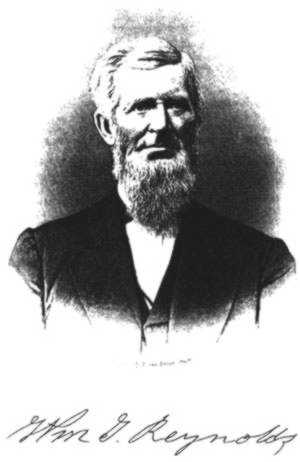 "William T. Reynolds is a son of Ezekiel and Phebe Reynolds, and was born in the town of Greenwich, Conn., July 18, 1814. His paternal grandfather, James Reynolds was born in Greenwich, Conn, and married Abigail Knapp, Oct. 18, 1786. She was born in Greenwich, Oct. 4, 1755. Their children were as follows: Stephen, Ezekiel, James, Josiah, Silas, Nezer or Ebenezer, Enoch, Abigail, Reuben, Rachel, Hanford, Lockwood, Joseph, Sarah, and Amanda. This large family was born in Greenwich and many of them have passed away. James Reynolds, Sr., was a farmer by occupation, reared his large family to industry and economy, and they became some of Fairfield County's best citizens. Mr. Reynolds died at an advanced age. (See the history of John G. Reynolds.) *
Ezekiel (second son of James) was born Aug. 7, 1788; married Phebe Reynolds, Dec. 24, 1809. They have had five children, all of whom were born in Greenwich, Conn. Names of their children are as follows, viz.: Adaline, who married Erastus Rundle, and has two sons and a daughter; James, died young; William t., Stephen, and Elkanan M.
Mr. Reynolds was a farmer, is a staunch Republican, and is a member of the Methodist Episcopal Church, and so was his wife. He has always been very liberal to the poor and to the church. He is now (1880) ninety-two years and some months old, and he has lived to see nearly three generations pass away. He is living with a bright hope of a happy future when soon the master will say, "It's enough, come up higher."
William T. Reynolds remained at home until he was married, receiving such advantages for an education as the district schools afforded. On the 23rd of February 1836, he married Mary A., daughter of Stephen and Rachel (Brown) Halsey. She was born in the city of New York, May 29, 1818. Her father was a ship-carpenter and merchant and was born on Long Island. Mr. and Mrs. Reynolds have the following children, viz.: Louisa H., Mary B., Julia R., Sarah W., William E. (deceased), Halsey W., and Louis E.
In the spring of 1836, Mr. Reynolds settled on the place where he now resides, which was formerly owned by Mrs. Josiah Brown, grandmother of Mrs Reynolds. She has a fine farm of one hundred and twenty-five acres, which is in a good state of cultivation. In 1856, he built his present house, in which the family still reside.
Mr. Reynolds is a strong believer in the principles of the Republican Party. he and his wife are members of the Congregational Church of Stanwich, and he is one of its main supporters. He has never sought political honors, preferring the quiet of home."
---
SOURCE: Hurd, D. Hamilton. History of Fairfield County, Connecticut. Philadelphia: J.W. Lewis & Co. (1881), p. 405.
*NOTE: This biography was published in 1881 and does not offer "proof" of Reynolds family history. This information should be used only as possible clues to other sources.--mp.