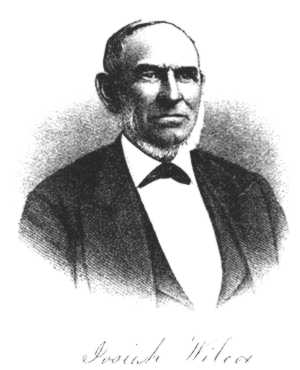 "Josiah Wilcox is a son of Joseph R. and Lina (Bacon) Wilcox, and was born in Middletown, Middlesex Co., Conn., May 9, 1804. His great paternal ancestor (John Wilcox) came from England about 1648 and settled at Hartford, Conn. he had a family of children, one of whom was named John (2), who was born at Hartford, Conn., married and had a son Israel who was born at Hartford, also. Israel married and had a son, Samuel, who settled at Cromwell, Middlesex Co., Conn., and followed the occupation of a farmer.*
He married and had children, one of whom was named Daniel, who was a farmer, married and had thirteen children, four of whom were sons, --viz.: S------, Josiah, Samuel, and Jacob.
Josiah Wilcox, Jr., was born at Berlin, Conn., was a farmer, also owned and ran a carding marching, married a Miss Savage, and had eight children,--viz.: Olive, Joseph R., Belinda, Huldah, Hepsabath, Lyman, Horace, and Lemuel, all of whom were born at Berlin, Hartford Co., Conn. Mr. Wilcox did in 1847, aged seventy-eight years.
Joseph R. Wilcox was born Jan. 16, 1774, and died Jan. 25, 1852. His wife, Lina Bacon, was born June 4, 1774, and died Sept. 11, 1847. They had six children,--viz., Chauncey, Alsa, Caroline, Pamela, Josiah, and Russell, all of whom are dead except Josiah and Pamela.
Mr. Wilcox built the first carding machine at Berlin and ran it several years. he was also a good farmer and a man in good circumstances for those days. He was a Whig in politics, and a member and liberal supporter of the Congregational Church.
Josiah Wilcox, this subject of this sketch remained at home, receiving the advantages of a common school education, until he was sixteen years of age, when he left to learn the manufacture of tinner's tools. After serving an apprenticeship of some five years, he began to work as a journeyman at one dollar a day, and the first year he put in three thousand one hundred and fifty hours of hard labor, or equal to three hundred and fifteen days of ten hours each. In the month of September 1828, he settled where he now (Nov. 2, 1880) resides five miles northeast of Portchester, N.Y. in the town of Greenwich, Conn. her he built the first factor for the manufacture of tinman's tools in 1828. His factory was thirty by thirty-five feet, and this he enlarged from time to time until now his buildings are many. ma. Wilcox manufactures shaft-couplings with no weld either in the eye or clip, thus making them lighter and stronger, but his specialty is at present the manufacture of carriage hardware, which is equal to supply the demands of more than one hundred thousand carriages annually. He is also interested in two other large factories at Southington Conn., namely Pecks, Stow & Wilcox Company, with a joint-stock capital of one million dollars and the Etna Iron-Rolling Mills.
He married Celestia Wilcox, Aug. 24, 1828. She was born in Berlin, Conn., Sept. 11, 1806. Their children were George E. (deceased), George E. (2), Willis H. (deceased), Caroline O., Willis H. (2), Cornelia M., and Josiah N., all of whom were born on the old home where Mr. Wilcox now resides.
Mr. Wilcox was a Whig until 1856, since which he has been a staunch Republican, and Nov. 2, 1880, he voted for Gen. James A. Garfield, of Ohio, for President. As a Whig and Republican he has five times represented his town in the State Legislature,--first in 1849, '51', '52, '53, and '54. He has often been a delegate to county and State conventions.
At seventeen years of age he united with the Congregational Church at Berlin, Conn., and since his residence in Greenwich he has been one of the strong pillars and main supporters of the Congregational Church at North Greenwich. His wife was a member of the same church, and he is a deacon of the same. Through a long and useful life, he has taken a deep interest in the cause of temperance, and thoroughly believes that total abstinence is the only safe way. For the last twenty years he has been a director in the Portchester Bank. he commenced life a poor boy, but by his own energy, supplemented by that of his faithful wife, he has reared a family of children who are universally respected, and they, as well as many of their children, are among Greenwich's best citizens.
George E., Wilcox married Sarah Lyon, and has two children, --viz., Gilbert L. and Bertha; Caroline O., married Henry S. Banks, of Portchester, and has two children, Clara and George; Willis H. married Susan C., daughter of Edward mead of Cos Cob, and has one son, Robert Mead; Cornelia M. married Silas E. Mead, of North Greenwich, and has three children,--Mabel, Louisa, and Josiah W.; Josiah N. married Henrietta Lyon, of Portchester and has two children, Lillian and Arthur R. He is a cashier in the Portchester national Bank, at Portchester, N.Y., and the other boys are identified in the manufacture of carriage hardware with their father, one of whom, Willis H., was a soldier in the great civil war, having enlisted in Company I, Tenth Connecticut Volunteer Regiment, in September 18621, and went forth to battle and was in more than fifty engagements under Gen. Burnside. He was slightly wounded at Strawberry Plain. He was mustered out October 1864."

---
SOURCE: Hurd, D. Hamilton. History of Fairfield County, Connecticut. Philadelphia: J.W. Lewis & Co. (1881), p. 403-404.

---
*[NOTE: This biography was published in 1881 and does not offer "proof" of Wilcox family history. This information should be used only as possible clues to other sources.--mmead]
---