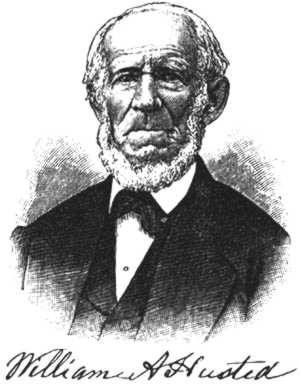 " William A. Husted is an only son of Elnathan and Nancy (Close) Husted, and was born in Greenwich, Conn., Dec. 31, 1801. His grandfather was named Peter Husted who married Eunice Lyon of Greenwich, Conn. They had six sons and two daughters,--viz., Elnathan, Amos, Cyntha, Peter, Moses, Aaron, Eunice, and Caleb. James Husted, Sr. (See history of James Husted, Sr.)
Elnathan Husted was a successful farmer and drover, married Nancy Close and had one son, William A. He was a member of the Second Congregational Church at Greenwich, Conn., and was a man respected. he died in 1825, aged fifty years. His wife died at seventy-three years of age.
William A. was reared on his father's farm, and farming has been his business nearly all his life. He owns the old homestead of two hundred acres where he was born. A view of his present house, which he built in 1871, may be seen in another part of this work. In politics a Republican.
On the 12th of December, 1822, he married Susannah Caroline Hobby, daughter of Squire Hobby. She was born Nov. 23, 1803, in the town of Greenwich, Conn. Their children are:
(1) Elnathan, who was a soldier in the Rebellion and died March 4, 1864, leaving a wife and two daughters--Caroline and Augusta.
(2) William F. married and has four children, and resides at Davenport, Iowa, with Lyman B., who has one son, and is a farmer.
(3) George, died young.
(4) Susannah.
(5) Lyman B.
(6) Squire Jerome, who has one son and is living in Oyster Bay, L.I.
(7) Mortimer, died Nov. 21, 1876, leaving a wife and one son.
(8) Nancy E., married John Andrews, a lawyer in Brooklyn and has one son and two daughters."

---
SOURCE: Hurd, D. Hamilton. History of Fairfield County, Connecticut. Philadelphia: J.W. Lewis & Co. (1881), p. 401. *[NOTE: This biography was published in 1881 (and written in 1880, see above) and does not offer "proof" of early Husted family history. This information should be used only as clues to suggest other record sources.--mp]
---
ADDITIONAL HUSTED FAMILY INFORMATION:
Remington, Gordon L., FUGA. "Robert [2] Heusti.s of Westchester : His Ancestry and Descendants" " New York Genealogical and Biographical Record, Volume 129, Numbers 1, 2, 3 (January, April, July 1998 ).