Welcome | New | Cemeteries | Query | Photos | Probate | Town Index | Links | Lookups | Search


---
REGISTER OF BIRTH FOR WILLIAM MULLIGAN BORN AUGUST 30, 1886
---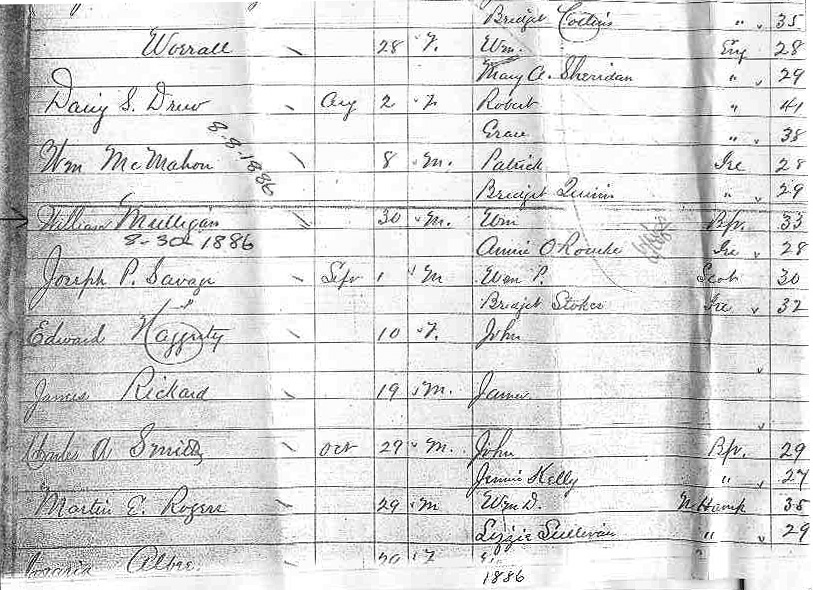 ---
Register of birth for William Mulligan 8-30-1886

4th child, s/o William Mulligan, a blacksmith

and Annie O'Rourke Mulligan

Lived at 100 Gregory Street .
---
Contributed by Gail Hahn Hutchcraft. Gail is seeking to compare notes with researchers working on the HAHN, LYON, O'ROURKE, MULLIGAN, REILLY and related families of Fairfield County, CT. Thank you for your contributions, Gail!

If you have questions, comments or offers of photos/data for this collective project,
please E-mail Maureen Mead.
©1996 to 2016. Created 5 Feb 2003. Updated 2/8/03.

Welcome | New | Cemeteries | Query | Photos | Probate | Town Index | Links | Lookups | Search