Welcome | New | Cemeteries | Query | Photos | Probate | Town Index | Links | Lookups | Search



---
WEED CEMETERY #1, 1798-1838
---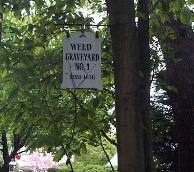 Weed Cemetery #1 is located on Pasture Lane, off Nearwater Lane in Darien. It is on a quiet, residential street. It is a very small cemetery and is slightly elevated from the street. The cemetery is surrounded by a stone wall. Inside the cemetery there are several gravestones that have sunken so deeply into the ground that only their tops are still visible. Some of the gravestones have fallen and are sunken face up into the ground. There are four stones located above the ground that are so weathered as to be totally indecipherable. There is a lot of overgrown brush. Unfortunately, this cemetery seems close to being lost.
To view the Hale Collection transcription of gravestones in this cemetery, click here.
---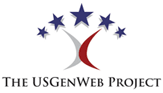 If you have questions, comments, or contributions to this collective project,
please contact Darien TC, Amanda Goodman.

© Copyright 1996 to 2008. Created August 2003. Updated July 2008 .

Welcome | New | Cemeteries | Query | Photos | Probate | Town Index | Links | Lookups | Search