Welcome | New | Cemeteries | Query | Photos | Probate | Town Index | Links | Lookups | Search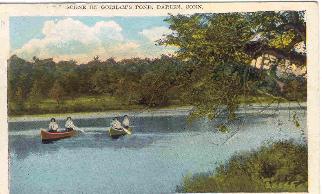 "Scene on Gorham's Pond, Darien, Conn."
Date of the postcard is unknown.
About Gorham's Pond & Mill
"A number of houses were built at an early date near Gorham's Pond. In 1708 Richard Scofield and Thomas Youngs were granted a permit to erect a grist mill and dam there at the mount of Pine Brook. It was know as Scofield's Mill and later Clock's Mill and Landing, after Scofield conveyed the property to his German son-in-law John Klock. Captain George Gorham bought the mill in 1740, and it remained in the Gorham family for nearly 200 years. The area, however, was still known as Clock's Landing well into the nenteenth century, when the name Ring's End began to appear in the land records. Gorham's Mill, unfortunately, was burned to the ground in 1921, destroying a venerable landmark."

Source:McLean, Louise H., "A Brief History of Darien" Darien Historical Sketches. Essex, Connecticut:Pequot Press, 1970.
For more information about Gorham's Pond click
here
.
---
If you have questions, comments or contributions to this collective effort,
please e-mail Karen Steel.
© Copyright 1996 to 2008. Created 27 August 2003. Updated June 2008.

Welcome | New | Cemeteries | Query | Photos | Probate | Town Index | Links | Lookups