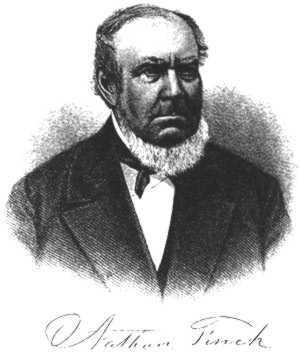 " Nathan Finch, son of Reuben Finch and Abigail Reynolds, was born in the town of Greenwich, at or near Stanwich, Fairfield Co., Conn., April 7, 1802. His great-grandfather, on his father's side was named Nathan Finch, who together with his brother Jonathan, came from England and settled in the town of Greenwich, Conn. Jonathan Finch soon after left the town and county, and nothing has ever been known of him or his descendants, and it is generally supposed that he died leaving now family. Nathan (1st) married and had a family of children, one of whom was named Jonathan, who married and had several children, one of whom was named Reuben, who was born in the town of Greenwich, Conn., July 19, 1773, married Abigail Reynolds, Oct. 5, 1794,. She was born in Greenwich, Conn., Nov. 3, 1774. Their children were as follows: Reuben R. (deceased), Deborah A., Amos (deceased), Nathan, Lockwood (deceased), Mary R., Jonathan (deceased), Hannah M., Julia E., and George G. (deceased). Reuben Finch was a merchant for a great many years, and was moderately successful. he also was engaged in farming for many years, and reared his children to industry and economy. he died on the 28th of April 1839.*
Nathan Finch (2d) worked on his farmer's farm summers and attended the district school winters until he was twenty years of age, when he entered his father's store as a partner wit his father and remained a few years, when he became a copartner with his brother, Reuben R., in general merchandising in the city of New York, where he remained about a years, when he returned to his native town and entered the employ of Joseph Brush, of Cos Cob, Conn., where he remained a short time. During the next five years he was a merchant at Sing Sing, N.Y., and the succeeding five years were spent at Peekskill, N.Y., as a merchant wit his brother Reuben R., when he again returned home and became a partner with his brother Jonathan in general merchandising, which continued some three years, when he became interested in the stock trade, bought and sold, together and with butchering, in which business he remained some fifteen years, since which time he has not been actively engaged in any business.
He is regarded as an honest, upright citizen, is a Republican in politics, but never aspired to any official positions, and is a member of the Methodist Episcopal Church of Stanwich, Conn."


---
SOURCE: Hurd, D. Hamilton. History of Fairfield County, Connecticut. Philadelphia: J.W. Lewis & Co. (1881), p. 408
---
*NOTE: This biography was published in 1881 and does not offer "proof" of Finch family history.
This information should be used only as possible clues to other sources.--mmead