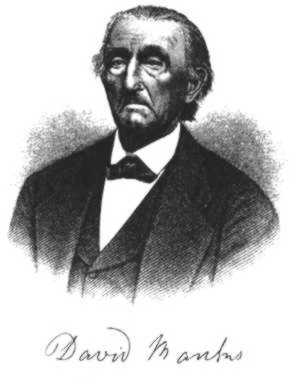 "Among the noble band of worthy men whose names grace the pages of this History none have been more bold in declaring their honest convictions on all questions of moral or religious reform than the subject of this sketch. He is of English origin and was born in the town of Greenwich, Fairfield Co., Conn., Aug. 11, 1794. His grandfather, David Banks, was a Revolutionary soldier, was a shoemaker by trade, and a man honored and respected. He died at a ripe old age.*

David Banks worked on the farm summers and attended the South Stanwich district school winters until he was thirteen years of age, when he commenced to learn the shoemaker's trade which his uncle, Daniel Banks. The time thus spent at the district, supplemented with eleven weeks sometime afterwards in studying English grammar, laid the foundation for his education. Mr. Banks has been a great reader and quite a logical thinker, and today has one of the best-informed minds in the town. At the early age of eight years he received religious impressions by the earnest prayers of a faithful schoolteacher, which took deep root, the result of which has been an earnest Christian life, devoted to God and the cause of humanity. On the 1st of January, 1815, he united with the Congregational Church at Stanwich, Conn., and at the present time, is a member of the Church of the Puritans of New York City.

He succeeded his uncle Daniel as the proprietor of the shop at twenty-one years of age, having in the mean time become somewhat noted as a first-class shoemaker, making a specialty of good fits on fine boots and shoe. His business increased, and he was compelled to hire two men to assist him. he commenced business in the same house where he first saw the light of day, and remained there until 1828 or 1830, when he settled where he now resides.

He built his present house on temperance principles in 1826 or 1828, it being the first house in the town put up without the use of rum at the raising. As a characteristic of his well-known termperence principles, even in those early days, we mention that when his head carpenter came to him and sac that the men would not work without rum, he replied that the timber could lie and rot before one drop of rum should be brought on his premises. He stuck to his vow, and the result was his house put up all right, and no one was injured. He continued at his trade until 1860, since which time he has been a farmer."

On the 10th of May, 1821 he married Matilda, daughter of Rev. David Peck, of Greenwich, Conn. She was born May7, 1797, and died June 17, 1879. She was a devoted wife and an affectionate mother. Their children were as follows: Zaccheus, Cornelius (deceased), Ann (deceased), David (deceased), Alpheus (deceased), Augustus, Elethen, Sarah H., and Mary E.

Mr. Banks has always been an outspoken, bold, antislavery man, and his own house has often been opened for prayer and public meetings to discuss the slavery question, even when the church was barred against such meetings; but time has wrought a wonderful change and such a change. In politics he was a Free-Soiler and Whig till 1856, when he became a staunch Republican, and in November, 1880, voted for Gen. Garfield, of Ohio, for President of the United States.

In 1840 he voted the Liberty ticket, having James G. Birney for President and a Mr. ------ Earle for Vice-President. There were only about seven thousand votes cast for this ticket in the United States in 1840, but this small party, under different times, has grown until its principles are well known and felt throughout the length and breadth of our vast domain, and in 1880 elected the ripest scholar and statesman that ever graced the Presidential chair.

Mr. Banks has been very liberal indeed, having given more than two thousand dollars to aid the missionary cause, besides doing his part for home interest."
---
SOURCE:
Hurd, D. Hamilton.
History of Fairfield County, Connecticut.
Philadelphia: J.W. Lewis & Co. (1881), p. 408.
---
*NOTE: This biography was published in 1881 and does not offer "proof" of Banks family history. This information should be used only as possible clues to other sources.--mp.

---