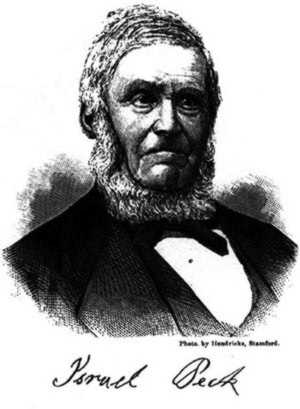 " Among the early settlers who came from England and settled in the town of Greenwich, Conn., was one Jeremiah Peck, a Presbyterian clergyman, who first settled at Elizabethtown, N.J., and then in Greenwich. he had two sons, Samuel and Theophilus. Theophilus was a cabinet-maker and joiner by trade, married Miss Mead and had twelve children., one of whom was Israel Peck, who was born in Greenwich, Conn., April 9, 1750. He married Lovina Purdy; she was born Feb. 9, 1775. Their children were as follows, viz.: Israel, Nehemiah, Elizabeth, Rachel, Levina, Israel (2) and Elizabeth(2). *
Israel Peck was a large farmer, a man greatly respected in the community. he and wife were regular attendants of the Congregational Church at Greenwich. He was a soldier in the Revolutionary war a very short time, but furnished a substitute, which released him. He died Jan. 18, 1819, and his wife died Jan. 13, 1836. Israel Peck, son of Israel Peck, was born on the 7th of December, 1794; married Darinda Peck, who was born Feb. 20, 1796. Their children were Mary, born July 12, 1820, and Jabez, born April 12, 1822, and died April 9, 1847. Mary Peck married Gilbert Shute, and died March 24, 1867. Mrs. Darinda Peck died Oct. 20, 1871, and on Aug. 19, 1873, Mr. Peck married for his second wife, Mrs. Almira M. Platt, widow of Rev. Ebenezer Platt, and daughter of Ebenezer Mead. Mr. Peck was reared a farmer, which was always his business until infirmity caused him to sell his farm. he owned the old homestead known as "Peck's Landing, " which he sold about 1866 or 1868, and after residing at Port Chester a few years, settled in the borough of Greenwich in 1873, where he has continued to reside until the present time.
He was a captain of a light militia company some four years. In politics he is a strong Republican. For more than fifty-one years, he has been a worthy member of the Second Congregational Church at Greenwich, and of of its main pillars. His wife is also a member.
Mr. Peck is a very strong temperance man, and believes that total abstinence is the only true safeguard."


---
SOURCE: Hurd, D. Hamilton. History of Fairfield County, Connecticut. Philadelphia: J.W. Lewis & Co. (1881), p. 407.
---
*
NOTE: This biography was published in 1881 and does not offer "proof" of Peck family history.
This information should be used only as possible clues to other sources.--mmead

---