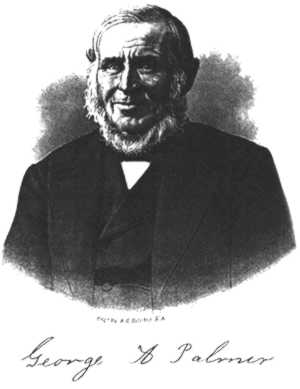 "CAPT. GEORGE A. PALMER is a grandson of Denham Palmer, who came from England in company with his wife and settled in the town of Greenwich, Conn., and reared a large family.
Denham Palmer, the first was a farmer by occupation, living to be well advanced in years. His children were as follows, viz.: Denham (2d), Henry, and James, and perhaps others.
Denham (2d) was born Aug. 12, 1766, married Mary Lockwood, who was born Sept. 132, 1767. Their children were as follows:
(1) Maria, born Jan. 1, 1797, married Robert Clark and had eleven children; she died Nov. 2, 1879.
(2) Lockwood, born April 7, 1798; deceased.
(3) Solomon, born Nov. 7, 1799; deceased.
(4) Deborah A., born Dec. 9, 1801; deceased.
(5) Frances, born Sept. 10, 1808, married Chandler Comings of Boston; died and left four children.
(6) Lewis, born April 7, 1805; deceased.
(7) George Augustus, born Sept. 5, 1807.*
All of whom were born in Greenwich, Conn., and all of them are now (1880) dead except George Augustus.
Denham (2d) was a mechanic and farmer. His wife was a member of the Methodist Episcopal Church, and died Feb. 18, 1857. He died at an advanced age.
Capt. George A. Palmer, familiarly known as Coldwater George, was reared on his father's farm, receiving only such advantages for an education as the district schools of his early day afforded. When he was about twenty-one years of age he purchased a market-boat and rant it between his native town and New York City. This however, was soon laid aside for a new one, which he built himself, named "Locomotive." He was the captain of this for more than twenty years, carrying provisions to and fro. The captain was so thoroughly temperate, eve in those early days when drinking was considered more respectable than it is now, that he would not carry liquors of any kind , beer, or even cider, and on account of his strict temperance principles, received the would-be stigma, "Cold-water George"; but today, it proves to be a title of honor, rather than reproach. The captain has been successful in whatever he has undertaken, and succeeded better and made more money in his trading than any man who carried rum. Since 1850, he has been engaged in farming. In politics a Whig and a Republican, and as such has held some minor town offices. He has been a worth member of the Congregational Church for a great many years,--more than fifty--and one of its strong supporters. He has been twice married,--first to Harriet Knapp, daughter of Abraham Knapp, Sept. 9, 1834. She was born Sept. 23, 1809, and died June 1, 1852, having been a member of the church many years. Their children were (1) Darius M. born Dec. 25, 1836, and is now engaged in business at Port Chester, N.Y.; (2) Elizabeth E., born Sept. 21, 1838, and died Jan. 4, 1850. For his second wife he married Phoebe E., a sister of his first wife, March 19, 1853. She was born April 6, 1805, and is a member of the church."


---
SOURCE: Hurd, D. Hamilton. History of Fairfield County, Connecticut. Philadelphia: J.W. Lewis & Co. (1881), p. 406-407.
---
*NOTE: This biography was published in 1881 and does not offer "proof" of George A. Palmer family history. This information should be used only as possible clues to other sources.--mmead.
---