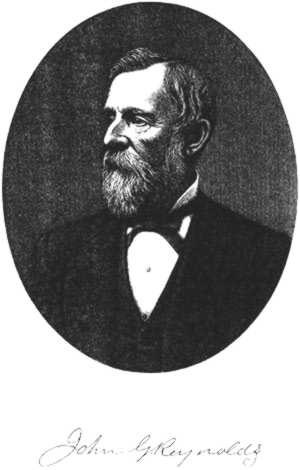 "John G. Reynolds is a lineal descendant of the fifth generation from one of four brothers who came from England and settled in Greenwich, Conn., perhaps more than two hundred years ago, or the latter part of the seventeenth century.*
We are not able to give the names of the four brothers, but they married and one of them had the following children, viz., Nathaniel, Nezer, Enos, Timothy, Rebecca, Deborah, and Abigail, the eldest of whom Nathaniel, was the great-grandfather of John G. Reynolds. This Nathaniel married Sarah Lockwood, and had the following children, viz., Nathaniel, born Sept. 7, 1745, died June 6, 1822; Ezekiel, born Oct. 13, 1747; died Nov. 24, 1833; Abigail born Dec. 11, 1749, died March 27, 1839; Benjamin, killed in battle in Revolutionary war; Phoebe, born April 16, 1757, died June 19, 1829; James, born April 16, 1764, died March 2, 1833; Sarah, born Feb. 8, 1762, died Aug. 31, 1849; Philemon, born Feb. 21, 1764, died July 28, 1835; Nezer died young; Deborah, born May 13, 1776, and he be nearly one hundred years of age; and Lockwood, born April 20, 1768, died June 7, 1827.
The first Nathaniel Reynolds was a farmer, and owned a large tract of land near Stanwich , Greenwich, Conn. This was subdivided among his children, many of whom were farmers also.
Nathaniel Reynolds (the third) married Deborah Husted, daughter of Benjamin Husted and Sarah Newman (see biography of James Husted), for his second wife, and several children, viz, Ard, Harriet, Benjamin, and Husted. He died in 1824, and she many years later. Ard Reynolds was born about a mile south of Stanwich, Conn., March 20, 1781. On the 13th of December, 1810, he married Anna Eliza Doell , a native of Germany, who came to America and settled in Albany, N.Y., at nine years of age. Their children were: Elizabeth P., who married Rev. Warner Hoyt, of Danbury, Conn.; Sally D., who married Tompkins Close, of Greenwich, Conn.; Benjamin H., who was killed at eight years of age; Ann Eliza (deceased); John G.; Harriet E., married Charles S. Guion, of Bedford, N.Y.; Julia H., married Rev. Senica Howland, of New York; and Maria S. (deceased).
In politics Mr. Reynolds was a Whig, and as such was one of the leading men of his town. he held the various town offices, such as magistrate and selectman, and was known as 'Squire Reynolds. He represented his town in the State Legislature, and took an active part while there. Mr. and Mrs. Reynolds were members of the Methodist Episcopal Church of Stanwich, and he was one of the leading men of the same. His home was always open to ministers, and many there were who found it a welcome place. He died April 26, 1857, and his wife Feb. 25, 1858, and both lie buried in the private cemetery on the "home farm."
John Godfried Reynolds was born on the place where he now resides, a mile south of Stanwich, in the town of Greenwich, Conn., March 25, 1821; He received a common school education, with a few terms at the Stamford Academy, at Stamford, Conn. On the 26th of August, 1851, he married Mrs. Julia R., widow of Augustus L. Reynolds, and daughter of Jared Smith. He was a Whig in politics until 1856, since which time he has been a Democrat. He has held nearly all of the town offices to the general satisfaction of his constituents, among which we may mention those of magistrate for a number of years, treasurer for eleven years, and register of voters since the adoption of the present system. He represented his town in the assembly during those trying years of 1863, and '64, and again in '74, '75, and '77, and while there occupied important places on different committees, and was chairman on education one term. He is a trustee and director of the Greenwich Savings Bank. Mr. and Mrs. Reynolds are member of the Episcopal Church at Greenwich, Conn., and he has been a vestry man for many years, and at the present time is junior warden."


---
SOURCE: Hurd, D. Hamilton. History of Fairfield County, Connecticut. Philadelphia: J.W. Lewis & Co. (1881), p. 405.


---
*NOTE: This biography was published in 1881 and does not offer "proof" of Reynolds family history. This information should be used only as possible clues to other sources.--mmead.
---