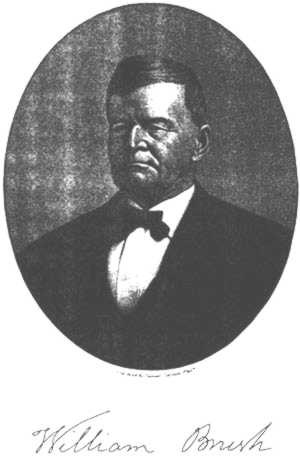 "William Brush is a lineal descendant of Capt. Benjamin Brush, who was a Revolutionary soldier, and who was taken prisoner during the Revolutionary war who was taken prisoner during the Revolutionary war and put in the famous Sugar-House, in New York City, where he remained some time.*
Benjamin Brush (2) was born April 28, 1774; married Rachel Brush June 22, 1799. She was born Sept. 26, 1779. Their children were Shubel, William, Charles, and John (deceased).
Shubel married and had three children,--viz., Mary A., Rachel A. (deceased), and Harriet (deceased). His daughter, Mary A., married George A. Lockwood, and had five children,--viz., Frederick, William, Charles, Caroline, and twins, names not known.
Benjamin Brush was a tanner and farmer byoccupation, a Whig in politics, and a member of the Congregational Church at Stanwich. He died in September, 1852, and his wife in March, 1853.
William Brush, son of Benjamin and Rachel Brush, was born at Stanwich, Conn., Sept. 26, 1802. He worked at the boot and shoe trade and tanner and currier till 1832, when he settled on a farm, working it summers and at his trade winters until 1838, when he settled where he now resides. In politics he is a Republican.
Mr. Brush is a liberal man, seeking to bestown his money where it will do good. He is a good citizen, and is universally respected."


---
SOURCE: Hurd, D. Hamilton. History of Fairfield County, Connecticut. Philadelphia: J.W. Lewis & Co. (1881), p. 404.

---
*NOTE: This biography was published in 1881 and does not offer "proof" of Brush family history.
This information should be used only as possible clues to other sources.--mp
---
---