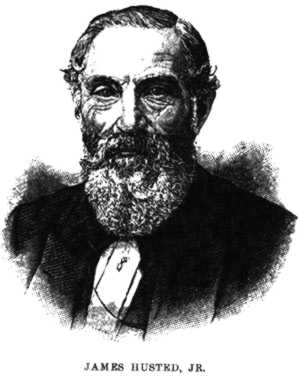 " JAMES HUSTED, Jr. James Husted, fourth son of Samuel and Nancy Husted, was born in the town of Greenwich, Fairfield Co., Conn., on the 28th of September, 1828. His father was the third son of Nathaniel and Ruth (Sniffen) Husted. He is a farmer by occupation, and now resides in Ontario Co., N.Y. His children are as follows,--viz.: Amos, Nathaniel, Eunice, Elizabeth, John, James, Samuel, and Mary, all of whom are living.
James Husted left his father's home at eleven years of age (1889) to live with his uncle, James Husted, after whom he was named. His advantages for an education were limited to the common schools of his day. He has continued to reside on the farm with uncle and aunt, except a few years while he was at Tarrytown, N.Y., and Rushville, N.Y., engaged in merchandising. On the 12th of September, 1860, he married Stella P., daughter of Joseph and Sarah A. (Mead) Brush. She was born May 22, 1838, in Greenwich, Conn. their children are James F. (deceased), Joseph B., Sarah E., Emily M., Eunice L., James H., and Hellen. In politics, Mr. Husted is a Democrat, but takes no active part in political matters."

---
*[NOTE: This biography was published in 1881 (and written in 1880, see above) and does not offer "proof" of early Husted family history. This information should be used only as clues to suggest other record sources.--mp]

SOURCE: Hurd, D. Hamilton. History of Fairfield County, Connecticut. Philadelphia: J.W. Lewis & Co. (1881), p. 400.
---
ADDITIONAL HUSTED FAMILY INFORMATION:
Remington, Gordon L., FUGA. "Robert [2] Heusti.s of Westchester : His Ancestry and Descendants" " New York Genealogical and Biographical Record, Volume 129, Numbers 1, 2, 3 (January, April, July 1998 ).
---