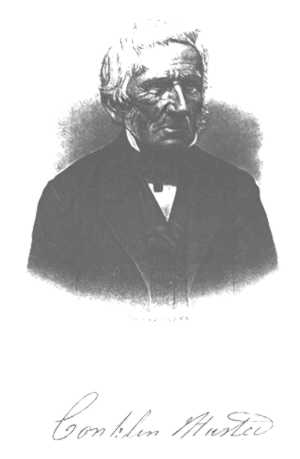 " COL. CONKLIN HUSTED is a son of Benjamin Husted and Sarah Newman, and was born in Greenwich, Conn., Dec. 7, 1790. His father was a native of Greenwich, Conn.; was a farmer by occupation; married Sarah Dayton, by whom he had the following children,--viz., David D., Hannah, Benjamin, Martha, William, Conklin, Mary, Roswell, and Rachel. He was a Revolutionary soldier; was a Quaker in religion. He died August 1834, at a great age. His wife was a member of the Congregational church, and died Septembner 1838, at an advanced age. (For history of Benjamin Husted, "the first," see biography of James Husted.)
Conklin Husted worked on his father's farm summers and attended the district schools winters until he was nineteen years of age, when he commenced teaching school at fifteen dollars a month, and followed it more or less winters until he was married, April 28, 1834, to Mary Ann, daughter of Abram and Mary Close. She was born Aug. 7, 1799, and died November, 1876. Their children are Julia E, who married William H. Briggs, a farmer in Greenwich, Conn., and Eveline C., who married Allen Brundage, a farmer of North Castle, N.Y. They have one son,-- Chauncey Conklin.
Mr. Husted was a very large and successful farmer, and took charge of his farm till 1869, when he retired, to be succeeded by his son-in-law, William H. Briggs, with whom he is now living. In politics, he was a Jeffersonian Democrat until 1856, when he became a strong supporter of the Republican party. He has held all the important offices of his town to the general satisfaction of his constituents, among which we mention those of assessor and selectman for many years, magistrate for more than twenty-five years; was a member of the board of relief for a long time, and during his long life he had settled a great many estates. He has been a member of the State Legislature eight terms, and while there served on important committees. He has represented his constituents many times in county and State conventions. He always took an active and leading part in military matters. He was a captain of the fourth company of the Third Regiment Connecticut Flying Artillery for many years, was promoted to the coloneley of the same regiment, and had the distinguished honor of commanding that regiment which escorted Gen. Lafayette from the State line of New York through to Stamford the last time the general ever visited America. He was always a great admirer of a fine horse and took great pride in military affairs. He is now almost ninety years of age, but his mind is good, and he recounts the struggles of a long and useful life with a great deal of interest. he has been a strong pillar in society, both politically and religiously. He united with the Methodist Episcopal more than sixty years ago, and has been one of its most liberal supporters. He has held every office in the church which falls to the lot of the layman. His wife was an adherent of the Episcopal Church. Col. Husted reviews the past with no apprehension of the future, and is only waiting to hear his Master say, "It's enough; come up higher."

---
*[NOTE: This biography was published in 1881 (see above) and does not constitute "proof" of early Greenwich, CT family history. This information should be used only as clues to suggest other resources for your research.--mm]

SOURCE: Hurd, D. Hamilton. History of Fairfield County, Connecticut. Philadelphia: J.W. Lewis & Co. (1881), p. 400.
---
ADDITIONAL HUSTED FAMILY RECORDS:
Remington, Gordon L., FUGA. "Robert [2] Heustis of Westchester : His Ancestry and Descendants" " New York Genealogical and Biographical Record, Volume 129, Numbers 1, 2, 3 (January, April, July 1998 ).