WELCOME
to the Litchfield County CTGenWeb! Litchfield County is part of the
CTGenWeb Project
and
The USGenWeb Project.
Although all CTGenWeb County and Town Coordinators have deep family connections to Connecticut, most of us do not live in Connecticut, and may be unable to answer personal genealogy question. We hope to provide data on this site to help in your genealogy research.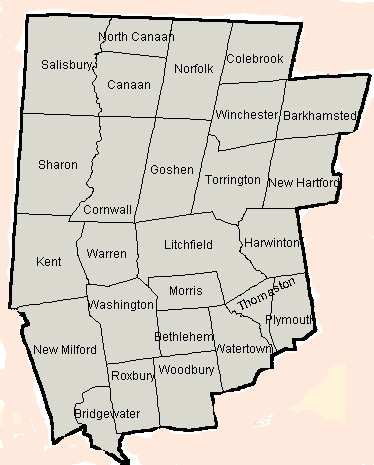 We are rebuilding and updating the Litchfield County site as of January 7, 2017, and it is available for adoption! As always, we welcome your participation in this project! Our goal is to offer free access to genealogical information now and in the future. If you have Litchfield County historical or genealogical resources, including transcribed obituaries, deeds, wills, biographies, or other family information, please consider sharing with your fellow researchers in this permanent online repository.
It is our hope that the information contained on the Litchfield County CTGenWeb site will be of help in your research. If you would like to participate in adding data to this site, OR serving as the Litchfield County CTGenWeb Coordinator, please check out this page and contact the State Coordinator if interested.