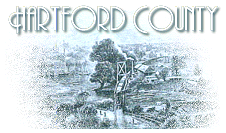 Hartford Bridge
Souvenir Number, American Enterprise, October 6, 7, 8, 1908
Greater Hartford, 1818-1908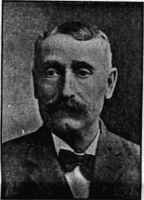 The following transcriptions are courtesy of Paul Lange
CAPT. ARTHUR B. KEENEY. A man who can collect the taxes for twelve years in one of the largest towns of the state, and still remain one of the most popular officials in the community, gives ample evidence of possessing a large amount of tact. This is the record of Captain Arthur B. Keeney, who is, at this writing, first selectman of the town of Manchester. By his genial manner, and his manifestly fair treatment of everybody with whom he has dealings, Captain Keeney has made a record to be proud of among his townspeople. When political interest was intense in Manchester and one wing of the Republican party was looking for the most popular candidate it could find, to run against the candidate of the rival wing, who was also a man of wide popularity, Captain Keeney was chosen as the standard bearer of his friend, against his wishes, and he led them to victory. For four years Mr. Keeney has been first selectman of the town, and he has given a good administration each year.
Captain Keeney was born in Glastonbury, March 25, 1849. He attended the schools in Glastonbury and also the South Manchester High school. He has always been a farmer by occupation. He has taken a prominent part in military affairs in the town, having held every office in Company G, First Regiment, C. N. G., and was captain from 1880 to 1882. He resigned the captaincy in 1882, but is still prominent in the Company G Veteran association. He married Miss Rose Wetherell, and they have one son. Captain Keeney is a member of King David Lodge of Odd Fellows.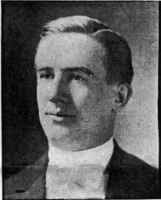 DR. HARRY A. HOTALING A young man who has made a decidedly favorable impression during the brief period he has resided in the community is Dr. Harry A. Hotaling, of South Manchester. He was born in New York, May 23, 1885, and was educated in the public schools in his neighborhood. He graduated from the Sidney High school, Sidney, N. Y., and immediately took up the study of dentistry. He graduated from the Baltimore Medical college, dental department, in 1907, and moved to Hartford. For a year he practised in a large office in the capital city, and then he went to South Manchester. Dr. Hotaling opened an office in that town in May, and has been practising successfully since that time. His work has been characterized by efficiency and thoroughness, and he is making many friends. Dr. Hotaling was married December 24, 1907, to Miss Ida Green. He is a member of the Psi Omega, and of the Modern Woodmen of America.
The following transcriptions are courtesy of Bill Daley
Warren P. BRISTOL is a native of Cheshire, this state, born April 21, 1873, and a descendant of one of the first settlers of the town, Henry Bristol, the first settler of Copper Valley, who died in 1750. Mr. Bristol is the third son of Alfred and Fanny A. (Doolittle) Bristol. His father died when the boy was but eleven years of age, and he was consequently compelled to commence life's battle early, which he did, going to work in the Cheshire watch factory for the wages of $3 per week. For about six years he was a worker in several factories, until at the age of 17 he found himself earning $18 weekly. Saving some money in the meantime, he betook himself to the Yale business college, and after getting through there went to Meriden as an engineer of the construction corps engaged in the building of the Meriden and Wallingford trolley line. In 1894 he was appointed assistant to the superintendent, and a year later, when the N.Y., N.H. & H. corporation purchased the property, he was appointed superintendent. He had special charge of the trolley work at Hanover Park, in which he displayed much originality and activity. For about ten years he acted as superintendent and manager in and near Meriden. In 1906 Mr. Bristol succeeded Frank Caum in charge of the Hartford Street Railway system of the Consolidated Railway company, as active general manager, a most difficult position to fill with satisfaction to all concerned, requiring much energy, tact and judgement. His grasp on the operative department is now complete, although for a while somewhat handicapped by the condition of things at the Hartford bridge and the hostility manifested against the corporation. Mr. Bristol was married to Miss Minna, daughter of C.S. Gillette, a leading farmer of Cheshire, April 21, 1896, and one child, Helen Doolittle, has been born of the union. In religion Mr. Bristol is of the Protestant Episcopalian creed; in fraternity a member of the L.A. Thomas Lodge, No. 9, I.O.O.F. of Cheshire, and in politics a Republican, but taking only an ordinary interest in political affairs, the exacting requirements of his position absorbing about all his time and attention.
William T. DAVIS was born in Wade, Pa., May 10, 1863. He attended the public schools at St. Clair, Pa., and at the age of 20 years graduated from the Wyoming seminary. After leaving school he entered the employ of the Erie railroads as ticket agent, serving in that capacity for eight years, later serving as cashier in Tonawanda for three years for the same corporation. On leaving the Erie he came to East Hartford on the solicitation of Superintendent Williams and served as clerk in the freight department on the New York & New England railroad. The monotony of railroad life palled upon Mr. Davis, so he took up the life and fire insurance business and was very successful in his new line of activity. Mr. Davis, while actively engaged in the insurance business, does a little promoting on the side and was one of the promoters in the development of The American Tobacco Culture Company of Connecticut. He fills the responsible position of secretary and treasurer of the organization and to his untiring efforts much of the company's success is due. His religious inclinations are attuned to the Episcopal faith. In fraternal matters, he is a member of the Order of Red Men, and held the office of sachem in the Sonquosson tribe. He is a member of the Masons, Orient Lodge, No. 62, of East Hartford, also of the Mutual Aid Society. He is a Republican and at one time ran for Town Clerk on the Republican ticket in East Hartford, but was defeated by a small vote. Personally Mr. Davis is a pleasant, affable gentleman, having in his make-up much of the artist, and he is a painter of no mean ability.
Henry C. DISSEL is a native of New York city, where he was born in 1863, Nov. 15. He secured his education in the public schools of that city. After leaving school he served his apprenticeship as a machinist and a watch toolmaker and worked for a period of 17 years, after which he took up the study of law for two years, then going into law publishing business, which line he has successfully followed for 11 years past. Mr. Dissell filled the office of the justice of the peace for 17 years in West Hartford, and was a member of the school board for the same period. He is a member of the Odd Fellows, Charter Oak Lodge of Hartford. He is a democrat, serving as chairman of the democratic town committee for a number of years, also serving as member of the democratic state central committee representing the Fifth Senatorial district. He was also honored by his party as a county delegate attending the St. Louis National Democratic convention in 1904. He married Miss Anna M. Simpson of Enfield in 1887, and five children, four boys and one girl, make their home an abiding place of peace and contentment. Henry C. Dissel is an energetic and hustling gentleman. He rarely sets out on any project and makes a failure of it. He has many friends all over the state among lawyers and throughout his district where he is well and favorably known.
Edward F. McKERNAN was born in Hartford, November 22, 1854. His education was of the poor boy order. It was very limited, owing to his early application to work. What little he gleaned was in St. Patrick's Parochial school, Allyn street, Hartford. Mr. McKernan was born and reared in the "old sixth" ward. He lived in and through its most palmy days. His advantages were few and he is one of the very few young fellows who ever pulled through and amounted to anything. There were plenty who considered themselves much brighter and better, but they are dead and in their graves, while he is in the land of the living, doing something for his country and himself. He is a member of the Protective Order of Elks and a very active member of the Veteran Firemen of Hartford, of which he has served as foreman for a number of years. He is married to Miss Theresa Smith and the couple are the happy parents of a family of seven children, all doing well and bound to get on in this world.
Edward, Jr., is a clerk at the Aetna Life Insurance Company. One daughter is employed in the office of the Aetna Indemnity Company of New York. Miss Annie is a proficient music teacher, and Frederick, who graduated from the Hartford High School, is now employed as clerk in the office of Commissioner McDonald at the Capitol. No man is better or more favorably known in Hartford than "Ed" McKernan. His heart is as big as himself, and he is a big man physically.
James T. FARRELL first saw the light in Hartford, March 23, 1858. He was an apt pupil in the Wadsworth Street school, passing through all its grades. For a number of years past Mr. Farrell has served on the Board of Assessors in Hartford and has given the most thorough satisfaction in that responsible position. In the line of public duty Mr. Farrell has served as deputy United States marshal, and for a few terms served on the Board of Relief. He is married to Mrs. Julia Hennessey and is the father of eleven children, all grown up. He is a member of the United Order of Workmen and the Macabees. He trains with the Democratic party and is an attendant of the Catholic church. Personally, he is quiet and rather reserved, doesn't say much, but is a deep thinker. In all walks of life James Farrell has a host of friends who think well of him.
Frederick Morse SMITH The subject of this sketch was born at Glastonbury, Conn., Nov. 20, 1858, his parents being Elizur Smith and his mother Asenath Gaines Smith. Graduated from Hartford high school in 1876 and Yale university in 1880, with honor of philosophical oration. He was principal of the high school at Southbridge, Mass., 1880 to 1884. In the summer of 1884, was appointed as a delegate to the International Young Men's Christian association conference at Berlin, by the Massachusetts state committee. He entered Harvard Divinity school in the fall of 1884; graduating from same in 1887 with the degree of B.D. and the additional degree of A.M., for proficiency in the Syriac and other Semitic languages. He returned to Hartford in 1887, and began private instruction as a tutor for Richard and Robert Gatling, fitting the former for the Harvard law school, and the latter for West Point. He continued private tutoring for several years, with his studio in the old Charter Oak building (now the Aetna Life building). Since 1887, Mr. Smith has been connected with the Hartford and New York Transportation company, in charge of the building-stone department, and hence had an indirect personal share in the construction of the new bridge. He has erected several high-grade residences, in company with Edward S. Tryon, on Kenyon, Oxford and Beacon streets, in Hartford. In 1899 he erected "The Harvard" apartment house, corner Capitol avenue and Trinity street, of which he is now the proprietor, and which is one of the finest structures of the kind in Hartford. In 1893, he married Carlotta Elise Korn of Meriden, the well-known public singer, who is the present soprano of the South Congregational church of Hartford. In 1890 he started a Sunday School in Parkville, out of which was organized St. Paul's Methodist Episcopal church in May, 1893. In college fraternities he is a member of Delta Kappa Epsilon and Phi Beta Kappa. In Masonic circles he belongs to Hartford Lodge, F. & A.M., Pythagoras Chapter, and Wolcott Council. In politics Mr. Smith is a republican; in religious affiliation he is a member of the First church of Cambridge, Mass., which was the first protestant church organized in the colonies. Wordsworth speaks of "That best portion of a good man's life - his little, nameless, unremembered acts of kindness and of love." This is the ideal made real in the character of this biographical sketch.
Alexander HARBISON, son of Robert Harbison, was born March 31, 1842, in County Armagh, Ireland. He came to Hartford when a boy, and after graduating from Hartford High school, worked in a market till 1861, when he entered the grocery firm of Harbison Brothers. In 1881 he sold his interest and for a time engaged in a realty business. In 1886 he took the Connecticut agency of the New York Life Insurance company. In 1870 he was elected an alderman.
Later he served in the council. In 1900 he was elected mayor by a large majority. In 1860 he enlisted in the Hartford City Guard and on his discharge became a member of its veteran corps. Gov. Bigelow appointed him quartermaster-general on the governor's staff. For a number of years he was paymaster on the staff of the Putnam Phalanx. In horse flesh he has taken much interest. For five years he was secretary of the Charter Oak Park
company and president for six years. He is a member of St. John's lodge of Masons, Pythagoras Chapter and Wolcott Council. He belongs to the Odd Fellows, the Elks, the Knights of Pythias and the Red Men.
Alfred C.J. WILLIAMS, son of the "pioneer furrier" of Hartford, was born in London, Eng., Dec. 9, 1855. Came to New York with his parents in 1857. Educated in Hartford and New York. Learned the furriers trade under his father; acknowledged one of the best in the trade. In 1889 he entered the store as a salesman and shortly afterwards was made a partner of the firm of Alfred Williams & Son. After the death of his father, the name remained the same till 1902, when it was changed to the present. In 1906 he removed to a larger store, 38 Allyn street, where he is now located, having faithfully served the fur wearing public for 35 years. He is a past master of St. John's lodge of Masons, member of Pythagoras Chapter, R.A.M., past T.I.M. of Wolcott Council of R. and S.M., member of Washington Commandery K.T., and of the several bodies of Scottish Rite Masons, Sphinx Temple A.A.O.N.M.S., also of the Sphinx Temple Band, Oasis club and order of Eastern Star (Ivanhoe Chapter).
The following transcriptions are courtesy of Darlene Demers
J. Knox HALL. The youngest son of Austin and Betsey Wells Hall, and descendant of Dr. Timothy Hall, a successful revolutionary army surgeon, was born in Hockanum, in 1834. After receiving a common school education, two winters in the East Hartford High School, occupying the present Wells Hall site, completed his school training. Being obliged to give up his cherished hopes of entering upon the medical profession, he reluctantly turned his attention to farming, which occupation he has always followed. He has been a successful market gardener for years, beside cultivating tobacco upon his farm. When the Second Congregational church was built upon the "old Sand blow" in Hockanum, Mr. Hall transferred his membership from the East Hartford Congregational church and became one of the most active and indefatigable workers in the church, serving as superintendent of the Sunday school for 22 years. In 1856 he became a member of Orient Lodge F. and A. M., of East Hartford, and joined in succession Pythagoras chapter and Wolcott Council of Hartford and Scottish Rite of Norwich, and is now one of the oldest and most respected members of Washington Commandary, Knights Templars of Hartford. A long connection with the Putnam Phalanx of Hartford has given him many enjoyable trips with that organization. As an active member of East Hartford Grange, he is deeply interested in all its plans for educational and social benefits. Mr. Hall has been identified with the temperance movements of his town, interested in its educational work and until the past few years a most active worker in politics, having with a few exceptions, always voted the Republican ticket. He has served for 19 successive years as Justice of the Peace. In church work, in politics, in town affairs, as well as in every movement which has claimed his attention as a citizen, he has given his best efforts towards the promotion of public welfare and public benefit. An honest, earnest, yet unassuming man, Mr. Hall holds the respect of all who are acquainted with his life. He married Catherine Frances Brewer and five children were born to them, Burdett who died in Virginia, Mrs. George H. Hale of Glastonbury and Mrs. Mary H. Pease, William K. Hall and Mrs. A. J. Evans of Hockanum.
Thomas MURRAY. One of the livest tobacco growers in East Hartford, and also one of the most popular, was born in Chatham, January 22, 1863, the son of Robert Murray. He attended school in Chatham and Moodus. He early entered the battle of life, learning the iron moulder's trade. He first worked as an apprentice for the North & Judd Co. of New Britain. After serving his time there, he went to Wilmington, Del. and later to Cleveland, O., in the course of his employment. In 1892, he turned his attention to farming and leased a farm of George W. Darling on Ellington Street, East Hartford. Prospering in his new work, he purchased the farm three years later. Mr. Murray, by fine management, hard work and ability, soon became one of the leading growers in his part of the town, and in 1904 he purchased the house and farm of John P. Hunting. The fine field of broadleaf tobacco which he raises on his home lot is proof of his success as a grower. In 1906 he purchased the Olmsted farmland and barn adjoining that property. The barn he remodeled and enlarged into a fine tobacco warehouse, having an elevator and modern appliances. In it he packs tobacco for Elias Bach & Sons, of 166 Water Street, New York City, one of the best firms in the industry. Mr. Murray is a member of St. Mary's Catholic Church. He is a member of Hartford lodge No. 19, B. P. O. E., the first division A. O. H. and Excelsior Camp, No. 8032, Modern Woodmen of America. In politics he is Republican and in 1905-6 he was selectman. He married Kittie Dunn of New Britain in 1888. There is one son in the family, William F. Murray is companionable and pleasant, and finds it easy to make friends. His acquaintance is large. He is genial, generous and whole-hearted. In business he is successful, through his ability to plan and work, as well as through his hustling propensities.
Nelson P. WHAPLES, junior member of the firm of J. F. Whaples & Son, contractors and builders, is one of East Hartford's hustling young business men. He was born in New Britain, April 26, 1870, and when a young lad moved to Hartford, where he was educated in the Brown School. In 1885, the family moved to East Hartford, where Mr. Whaples became yard clerk for the N. Y. & N. E. R. R. After three years' service in this capacity, he left to learn the carpenter's trade and after serving his apprenticeship, was taken into the firm with his father. The firm has a reputation for honest building, and some of the finest residences in town, as well as the addition to the Union School on Burnside Avenue and the brick school in South Windsor are examples of their work. Mr. Whaples has been treasurer of the Union School district since it was organized and has always had a keen interest in local politics, although not an office seeker. He is a member of Orient Lodge F. and A. M., Modern Woodmen of America and Center hose company. In 1891 is married Miss Ida M. Coykendahl and has a pretty home at No. 3 Elm Street, which is made happier by two daughters, May M. age 14 and Susie E. age 10 years. A son, John N. died in infancy.
The following transcriptions are courtesy of Ruth Cherecwich
Marcus Morton JOHNSON, B.Ph., M.D. was born in Malone, N. Y. April 21, 1844. He received his early education, preparatory to entering college, at Franklin Academy, Malone, N.Y., and graduated from Brown University in 1870 with the degree of B. Ph. He then became instructor in mathematics and the sciences in the Connecticut Literary Institute in Suffield, Conn., for five years, and is officially connected with that institution yet. He received his medical degree from the University of New York, where he graduated, receiving with honor the "Valentine Mott Gold Medal," the highest award for excellence in anatomy and dissections. The following year he was appointed house surgeon in the Hartford hospital. He then pursued his studies abroad for two years under the instruction of eminent surgeons like Thomas Keith of Edinburgh, Sir Thomas Lister of London, Billroth of Vienna, and Martin and Von Langenbeck of Berlin. In 1880 he took up his residence in Hartford and has resided here ever since. In his medical practice he has been very successful. As a surgeon he is cool, painstaking and skillful. He is a rapid operator, and with such an acute touch, amounting almost to seeing. In his sanatorium, 122 Woodland Street, Hartford, he has one of the most complete institutions of the kind in the country. It is equipped with all the latest devices for the treatment with massage and electricity, and has a corps of nurses capable of rendering the best possible care to the patients. In 1884, February 14, Dr. Johnson married Mrs. Helen Lyman Jackson, and two children, Helen Gaylord and Ethel Chapman are the results of this union.

Charles E. PARKER was born in the city of Hartford, February 18, 1865. At an early age he attended the public schools and afterward graduated from the Hartford High school with great honors. After his school years were ended, the subject of our sketch entered an insurance office and worked his way from an office boy up to the commanding position as fire insurance manager for the well-known and reliable firm of Charles E. Parker & Co., with headquarters at 50 State street, Hartford. Mr. Parker married Miss Ida M. Abbe and three fine children are the result of the union. He is a member of the Methodist church and fraternally holds membership in Hartford lodge F. & A. M., Washington Commandery, Republican club, Hartford club and Hartford Golf club. He has served on the Hartford board of Fire Commissioners since 1899 and has held the office of president of the board since 1904. He is also president of the Board of Underwriters. In his politics he is an ardent Republican and is always in demand for advice as to the welfare and success of the party, but he does not alone give good advice, but his contributions are of a financial character which go to make his sympathy practical. No man in the Capitol city has the respect and good wishes of so many people as has Mr. Parker, for he is deservedly popular and well liked. A genial, whole-souled gentleman, he has few enemies and hosts of friends.

Alfred SPENCER, JR. the subject of this sketch, was born in the town of Suffield, this state, October 29, 1851. He received his early education in the town schools, supplemented by that of the Suffield Literary Institute and the Edwards' Place school of Stockbridge, Mass. His present occupation is that of banking. In July, 1872, he commenced as a boy in the First National of his native town, advancing to the position of cashier in 1887, coming to the Aetna bank of Hartford in 1891 and elected its president in August, 1899. Mr. Spencer is married, his wife being a Miss Ella S. Nichols. Two sons are the fruits of the union. In religion Mr. Spencer is a Baptist. His fraternal connections are with the Apollo Lodge, Washington Chapter and Suffield council of Masons, Washington Commandery K.T., and Connecticut Consistory of Norwich, Conn. He is also a member of Sphinx Temple, Nobles of Mystic Shrine, of Hartford, and has been its treasurer ever since its organization. He was elected Treasurer also of Washington Commandery in January, 1907, to succeed the late Miles W. Graves. In business and social circles Mr. Spencer is highly esteemed.
The following transcriptions thanks to Diane Humphrey
Elmer A. ROBINSON was born in Glastonbury, September 10, 1874. He attended the district and the Glastonbury High School and finished in Huntsinger's Business college. After acquiring his education he obtained employment in the Glastonbury Knitting Company Mills, located at Addison, where he worked in every department from bottom up, landing in the office, occupying several positions having been gradually promoted, and in February 1903 he was elected secretary of the company to succeed the late Thomas J. Outtrim, which position he ably and conscientiously fills at present. Mr. Robinson is also one of the incorporators of the Manufacturers Wharf Company of Glastonbury, a director and also Secretary of the concern. He is now serving his third year as Trial Justice and gives good satisfaction. He holds membership in Daskham Lodge, No. 86, F. and A.M., also a member of Pythagoras Chapter, R.A.M., Wolcott Council, R and S.M., Washington Commandary, K. T., Charter Oak Lodge of Perfection, Hartford Council, Princes of Jerusalem, Cyrus Goodell Chapter of Rose Croix, all of Hartford, and Connecticut Sovereign Consistory of Norwich.
Emerson E. OLCOTT was born December 7, 1859, in Naubuc, where he attended the district and select schools of his locality. During his vacation season he worked hard to earn money with which to pay for his schooling. When able to leave school he entered employ of the American Sterling company's shop, now known as the Williams Cutlery Works as a burnisher at Naubuc, where he made good money at piece work. Later he went to Wallingford where he worked in the shops of Wallace & Sons. On his return to Glastonbury he worked at various occupations and being careful of his savings he purchased a fine lot of land on which he erected his present fine residence, and today he has a farm of over 15 acres of as good tillable land as can be found in the town on which tobacco is grown. In 1894 a fire destroyed a large block in the business center of the town, and Mr. Olcott purchased the ground and erected a fine business block in which is contained a large hall in the upper story and on the first floor a large grocery store and postoffice. In 1895, Mr. Olcott with his brother Harry opened up with a large grocery store as partners which continued until 1898 when the subject of this sketch withdrew in order to give more attention to his agricultural and quarry interests. In his politics Emerson Olcott is a pronounced Republican and has held the office of first selectman for two years and second selectman for one year. He is a member of the Odd Fellows and O. U. A. M. He holds membership in the Congregational church. May 29, 1878, Mr. Olcott and Miss Queria Bidwell were joined in wedlock and four children grace the home of the happy couple. Mr. Olcott is well and favorably known in his native town and all through Hartford county as a square deal man.
John RUTHERFORD was born in South Hadley, Mass., 50 years ago. He went to the public schools of his native town and later graduated from the South Hadley High School. Shortly after finishing his education he moved to Plainville, this state, where he was employed for five years. He took up his residence in the town of Glastonbury in 1883 and has been employed in the service of the Glastonbury Knitting Mills company ever since. In 1900 he was appointed superintendent of this large corporation on the death of the late Austin Bidwell. Mr. Rutherford is married to Miss Emma C. Fladd, and is the father of three children. He attends the Congregational church and is a member of the Masonic lodge here. In politics he is a Republican and has been chairman of the town committee for three years. In the capacity of superintendent, Mr. Rutherford has charge of several hundred employees and he is popular with them all, as he is with his townspeople.