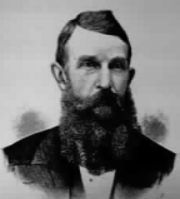 "William H. Trowbridge was born in Danbury, CT, Feb. 2, 1822. His parents both came of good old English stock, his father, James H. Trowbridge, dating back through six generations direct to Thomas, whose three sons, Thomas, James, and William, came to America in 1654, and his mother, Mary (Banks) Trowbridge, reaching through the Hoyt family back to England also.

When William H. was two years old his parents moved to Stamford, where his father engaged in the manufacture of hats, which he followed until the death of his wife, when he turned to that portion of Danbury now call Bethel. William received his early education in district and private schools, and even in childhood developed a fondness for medicine, but kept his preference secret, feeling that his parents were not in such a financial condition as to properly help him in pursuit of his studies. When about seventeen he desired to engage as teacher in a district school, but, yielding to his parents' wishes, he entered as apprentice to a tailor in Bethel, then Danbury, and served faithfully until he was twenty-two years old, preferring always, however, the cutting of clothes to sewing them up. During these years his books were not forgotten, but through his labors and the attraction of youthful society, with its rides and parties, the idea of surgery was ever before him, and while here an accident brought this proclivity into prominence. An old man, in an attempt at self-destruction, cut his throat, and, in a village like Bethel, everybody knew of it and thronged to see, among the number was William, then eighteen years old. The physician was, on his arrival, engaged in dressing the gaping wound in the old man's throat, with the aid of such help as could be obtained from the inexperienced and faint-hearted crowd. William was at once drawn, instinctively, to patient and physician. Seeing his interest, the doctor said, "Young man, you are not pale; take hold of this and help me, and let these chicken-hearts go away." The youth did such good service, holding the lips of the wound, handling dressings, etc., so well, that the physician, Dr. Hanford Bennett, said, "Boy, you'll be a surgeon some day, and on one can help it."

Finishing (prematurely) his trade, William went to Stamford, married Miss Sylvia Peck, and soon moved to Orange Co., NY, and after two years spent in that state returned to Stamford and engaged as teacher in the district school, where his early school days were spent. He succeeded, gained reputation, and soon taught higher grades of school, all of the time studying medicine diligently from 5 a.m. till school-time, summer and winter, and laboring with all his might in the school-room to provide for his family and attend medical lectures. Teaching and studying alternately, he attended one course at Yale, two courses at New York College of Physicians and Surgeons, and graduated at Yale Medical College. After spending one year in the office with Dr. George Lewis, in New York, he opened an office in Stamford, were, excepting his army life, he has enjoyed a thriving practice. In the late war of the Rebellion, Dr. Trowbridge was first engaged as surgeon of the Twenty-third Regiment Connecticut Volunteers. To this work he was impelled by a sense of duty, and left a lucrative and fast increasing practice solely to go good. His regiment proceeded to New Orleans with Gen. Banks, and on arriving there Dr. Trowbridge sought the medical director of that department, and told him he came there for work, and if he was needed anywhere he would be on hand. As a result, during his stay in the department there was not a battle fought in which he was not called upon to give service. After the battle of La Fouche Crossing he was called, without assistance, to attend to more than two hundred wounded Confederate prisoners. Their injuries ranged from flesh wounds to broken skulls and shattered limbs. He commenced his work at four o'clock Sunday afternoon, and worked incessantly, without sitting down to eat, or sleeping, until Tuesday at midnight The day thereafter he was left in the rebel's hands with the wounded, but by them kept in the same place and service. This captivity lasted six weeks. Soon after he accompanied his regiment to Connecticut, and with it was mustered out of service on expiration of term of enlistment. He was soon selected as surgeon of board of enrollment in the Fourth District of Connecticut, and placed on duty at Bridgeport. He attended so well to the duties at he held that position till the close of the war, when he was again honorably discharged, and return to his home in Stamford. He resumed his professional practice and from that time has been identified with the town, his practice and reputation for skill increasing yearly. Four of his children have attained maturity. The oldest, a teacher, is married and father of four children, yet Dr. Trowbridge remains young, and alert and active as of your. His talents are those of solidity rather than brilliancy. He is not blatant, not freely expressive of his knowledge, but well posted in his profession. He is not a boaster, and despises one as much as an intriguer or trickster, and is always on good terms with his brethren. He especially excels in surgery and midwifery. In both his skill is from natural aptitude. His army experience has largely aided his skill as a surgeon, while that of midwifery has grown upon him, through the exceptionally large practice given him by his gentleness and kindliness of manner, aided by an untiring patience and a coolness that never flurries to hinder his success or make nervous his patient. In this department he stands at the head of his profession in this section. For many years he has numbered more than one hundred obstetric cases per annum, having in one year one hundred and forty-four, out of a total, in the town, of three hundred and fifty-one."