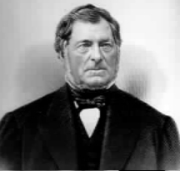 "William H. Dibble, son of Ezra and Clarissa (Weed) Dibble, was born in Stamford, Jan. 4, 1811.

His paternal grandfather, Nehemiah, lived in Danbury, where also resided his two brothers, Daniel and Joseph. All were noted for longevity, Nehemiah dying aged about ninety, Daniel about ninety-five, and Joseph in his one hundred and first year. During the Revolution, Gen. Tryon, in command of British troops, visited Danbury and burned the entire village with the exception of Nehemiah's house, which he made his headquarters. This house was taken down about 1870, and many people came to secure pieces as relics of the olden time.

Ezra, son of Nehemiah, was born in Danbury, and, after learning the hatter's trade there, came to Stamford and established a hat-manufactory, marrying, Dec. 25, 1808, Clarissa daughter of Benjamin Weed, of an old Stamford family. Her father was an officer in the Revolution, where he received three bullets, which he carried during life.

Mr. Dibble, in connection with his manufacturing, established three wholesale stores in Charleston, SC, and Richmond and Norfolk, VA. In 1817 he retired from business, going back to Danbury. After ten years' residence there he again moved to Stamford, and bought the place where his son William now lives. He had by inheritance forty acres of land, lying immediately opposite his purchase, which Nehemiah had bought after the Revolution for one pound per acre. In 1827, when Mr. Dibble made this purchase, there was but one house between his residence and the village. Mr. Dibble died with sunstroke, aged seventy-six years, leaving two sons, William H. and Samuel Benjamin.

From the removal to Stamford, William H. was the real head of the family. His father knowing nothing of farming, William had to supervise everything, and from that time he has resided there as proprietor. About 1848, Mr. Dibble opened a select boarding house for summer enter- tainment of the elite of New York City. He was conducted this since that time, entertaining sometimes as many as eighty guests at once. He has also engages largely in fruit culture, and has now some twenty acres of choice varieties of large and small fruits. He was been very successful in business and extremely fortunate in dealing in stocks, and holds a high financial standing.

Mr. Dibble married, April 19, 1835, Ann Ellen, daughter of Alpheus Webber, of Kinderhook, NY. She died in 1839. They had one child, Harriet E., who lives with her father. June 25, 1840, he married Mary Ann, daughter of Philip and Aurelia (Booth) Walker, of Bridgeport. She was born Dec. 28, 1813. their children attaining maturity are Mary Catharine (Mrs. Benjamin F. Mosher, of Greenwich. She died Aug. 9, 1869, leaving one daughter, Clara Dibble, who has been cared for by Mr. and Mrs. Dibble ever since) and Carrie Augusta, who died Aug. 4, 1876, aged twenty-three years.

Samuel B. Dibble was born Sept. 1, 1813. he went as a dry goods dealer to New Jersey when only fifteen, and established in Rahway and Trenton. He lived there some years, married and moved to New York, his wife's former home, and shortly afterwards, March 1843, died, aged not quite forty years."