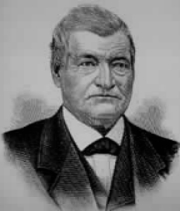 "William Wallace Scofield was born in Stamford, CT, March 2, 1825. His father was Amzi and his mother Polly (Davenport) Scofield.

The Scofield family is an old Stamford family. In the town records, under date of Dec. 7, 1641, mention is made of an award of a home-lot and wood-land to "Dan Scoffeld." From this hardy pioneer have proceeded many branches of this family, until at this writing the name is borne by more people in Stamford than any other.

The paternal great-grandfather of W.W. Scofield was Peter Scofield, and his grandfather was Warren. This grandfather married a daughter of Capt. Reuben Scofield, who was a captain of the town guards in the Revolution in the Revolution. Both Reuben and Peter was deacons in the Congregational Church, and both served in the French and Indian war under Gens. Abercrombie and Amherst. An incident will show the ready wit of Peter. The old man, then aged about ninety years, had been an active member of a militia troop. Some of the members of the company were going to honor him with a salute as they passed his houseon their return from "trooping." Peter was sitting at the window, and when their pistols snapped, and they were going to ride away, he rushed to the door and shouted, "Hold on, boys. I will bring you a coal of five." Peter was ninety-one or ninety-two years old when he died, and Reuben was ninety-three.

Warren had but one son, Amzi, who was born Sept. 26, 1794. He remained on the old homestead, and, like his associates, did much towards developing the resources of the country. In that era mammoth fireplaces were the rule, and the gigantic "back-logs" used in them were drawn into place by a horse. He received a common-school education, stayed with his parents until he was about twenty-four, when he built a house on the farm, and married, Nov. 24, 1819, Polly A., daughter of Deodate and Abigail (Sandford) Davenport, old setters of New Canaan. She was born June 19, 1796, and still is living, with mind active, looking years younger than many women and nearly as old. Mr. Scofield was his father's sole heir, and carried on the farm. He died Feb. 20, 1868. His surviving children are Amzi L., Cyrus, William W., Abigail, and Louisa.

William W. spent his early years on the old homestead, attaining a country boy's education at the common scolds, working on the farm in summer, at the common schools, working on the farm in summer, and attending winter term of school, never, in any years, receiving more than four months' instruction. He remained on the farm until the breaking out of the "California fever" in 1849, when he joined the number going to the new El Dorado. Arriving there, he went at once to the mountains and worked at mining for a year, returning to Connecticut after an absence of eighteen months. He had fair success, notwithstanding the evil effects of a severe attack of Panama fever, from which he did not fully recover during his stay in California. On his return Mr. Scofield resumed farming, and remained with his parents until his marriage, which occurred Dec. 17, 1855. He married Louisiana C., daughter of John and Lucinda (Robinson) Mead. Her father was a tailor, a native of England, and for many years imported goods from that country, crossing the Atlantic seventeen times in so doing. Mrs. Scofield was born Sept. 12, 1834. Their children are Isaac M., born March 8, 1859; Frank R., born May 29, 1861; Mary Louisa, born Nov. 5, 1863.

Since his marriage Mr. Scofield has resided on his farm, and has been ever a practical, progressive agriculturist, quick to see, and avail himself of, improvements in his avocation, and enjoys a high standing in the estimation of his fellow townsmen, not only for his personal worth, but for the good culture and condition of his land, and he may justly be placed as an example for others. He has made this good farming pay, and so may others. He has held various offices in the gift of the people, has been on the board of relief, was selectman for six years, and under the consolidation was member of school committee for six years. In politics was an Old-Line Whig, but in 1858 was elected representative from Stamford in the State Legislatureby the "Know-Nothings." Since the formation of the Republican party he has supported its candidates and principles."