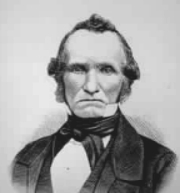 "Timothy, son of Abel and Anna (Mead) Reynolds, was born March 28, 1802,in Roxbury, town of Stamford, CT. He was of English ancestry and Puritan stock. His grandfather, Timothy, was captured by the Indians during the Indian wars previous to the Revolution. He was an officer before the Revolution, and held a colonial commission in that war, which has been preserved with great care by his descendants.

Abel Reynolds was born in Greenwich, and after marriage settled at Roxbury, where he lived many years as a farmer, dying much respected about 1859.

Timothy Reynolds was reared on the farm with his parents, and, with the other youth of that day, attended common schools winters and "worked on the farm" summers until he was about eighteen years old. Then he went to learn the carpenter's trade with an uncle, George Reynolds, in Stanwich, and remained with him until after he was twenty-one. Commencing business for himself, he worked at his trade until his love of home life and failing health caused him to cease that business and become a farmer. He married, Nov. 19, 1827, Prudence, daughter of Solomon and Susannah Smith. She was born in Stamford, April 5, 1804. Her family was one of the old-time families in this town, emigrating originally from England to Long Island, and from thence to Stamford.

Mr. Reynolds was a farmer, frank and outspoken, without anything savoring of fraud or deceit in his nature; never seeking official position, but often call upon to settle estates, which he did to the satisfaction of those interested. Quiet, loving home and its associations, he was a true friend, and honored and respected by all. He died Aug. 23, 1863.

He was an Old-Line Whig, and became a Republican on the organization of that party.

Mr. and Mrs. Reynolds were for years members of the Methodist Episcopal Church, and always liberal supporters of the same. Since Mr. Reynolds' death Mrs. Reynolds has, among many gifts, contributed the sites of the Roxbury Methodist Episcopal church and its parsonage.

For thirty-six years this worthy couple walked together life's pathway, doing each duty well as it presented itself, and lending a helping hand to all good enterprises. Since her husband's decease Mrs. Reynolds has resided at the old home, continuing the same life of well doing, and, with all the vivacity and cheerfulness of youth, patiently waiting the summons to follow her beloved husband to "the land beyond the river." Of them it can be truly said, "They have done their work well."