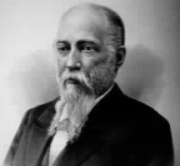 "Theodore J. Daskam was born in Stamford, CT, March 3, 1833. His grandfather, Capt. William Daskam, served under La Fayette in the Revolution, and received his discharge direct from Washington. He commanded a company in the war of 1812, and for his services received a pension. His family consisted of thirteen children, of whom Benjamin J., father of Theodore, was youngest.

His birthplace was in that portion of Stamford since set off as the town of Darien, and he was born in January, 1810, and married Mary Ingraham, also a native of Stamford. They had seven children. Mr. Daskam first learned the carpenter's trade, but not liking it went to Brooklyn, NY and, as a clerk, familiarized himself with mercantile pursuits. Returning to Stamford, he engaged in trade, and is today one of the oldest merchants here, having been in active business for forty consecutive years, for thirty years occupying the premises where he is now located. He has been for years on of Stamford's representative men, enjoying the confidences of his fellow townsmen; has worthily filled all of the various local offices and represented his town in the State Legislature.

Mr. Daskam was the eldest of his father's family, and from his early youth assisted his father in his business, becoming chief manager, while his father attended to the purchase of goods in New York. As ardent believer in the principles of the Republican party, he has ever been active in their support, and it is a token of the esteem and confidence with which that party held him, and the value they placed on his services, that he received one of the first appointments of President Lincoln. He was appointed postmaster of Stamford by commission dating April 17, 1861. This position he has held by commissions successively from Lincoln (1861-65), Johnson (1866), Grant (1870-74); Hayes (1878), and is now one of the oldest of these officials in the United States, three others only dating back their appointment (approximately) to the same time. He was United States Deputy Collector of Internal Revenue for nearly ten years, and, by request of the tax-payers of Stamford, was appointed Assistant Assessor of Internal Revenue. He held this office about three years, as long as there was a necessity for it. During this period Mr. Daskam was holding three Federal offices, and thus had three distinct franking privileges.

In 1864 he was engaged in the insurance business, and he now represents some of the best companies in fire insurance, and the "Mutual Life" of New York City.

He was one of the incorporators of the Gulf Stream Engine Company, No. 2, of Stamford. He was foreman of it for many years, and is now an active member. The only time he has been off the rolls of this company was while acting as chief engineer of Stamford, which office he held for several years.

He cast his first vote for William T. Minor, who was the Native American or "Know-Nothing," candidate for Governor. Since the Republican party was in existence he has supported its candidates, voting for John C. Fremont for President in 1856.

He has for years held membership in Union Lodge, No. 5, F. and A.M.; was Senior Warden in 1858, Master in 1860, and Treasurer from 1861 to 1864. For about twenty years he has been a member of the Rippowam Lodge, No. 24, I.O.O.F., and is a director of Stamford Savings Bank.

Mr. Daskam is a man of thorough business qualities, possessed of energy and force of character, and at the same time has winning social qualities and a large number of personal friends. He is always awake and active in anything tending to advance, elevate, or improve the interests of Stamford.

Mr. Daskam was married Dec. 6, 1864, to Sarah Remer, daughter of Edward T. and Sarah (Remer) Stanley, of New Haven, CT. Their only child, Walter Duryee, was born Sept. 18, 1865."