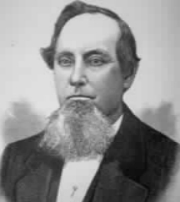 "Seth Smith Cook, son of Henry and Hetty (Smith) Cook, came to Stamford in 1819 and settled at Long Ridge, and engaged in cabinet-making and undertaking, which he followed for more than fifty years. He was a man diligent in his business, of a warm, social nature, and one of the original members of the Universalist Church of Long Ridge. He was a man esteemed for his probity and many good traits of character, and died at a good old age, much respected.

Seth was educated at the common schools, supplemented by one year's tuition at the Bedford Academy. Leaving the academy at the age of about sixteen years, he commenced work with his father in the cabinet shop. He learned the trade thoroughly, becoming a good workman, and continued with his father until he was twenty-one. The fall thereafter he taught a term of district school at High Ridge, then, returning home, he worked again at cabinet work for eighteen months.

In 1845 he formed a partnership with Hickford Marshall, under the firm name of Marshall & Cook, to manufacture agricultural machinery. This co-partnership lasted seven years, the latter part of the time being devoted almost exclusively to manufacturing chain pumps. After the dissolution of this firm Mr. Cook went back home, and to the old cabinet shop, where for two years he was busily employed.

In 1855 he entered into partnership with F.B. Scofield, with firm title of Scofield & Cook, for the purpose of keeping a country store and the making of shoes. This latter branch was at first a secondary matter, but in the lapse of time has grown to large proportions, and has proved to be the great business of this part of the town, paying out much money and giving employment to quite a number of persons. The firm Scofield & Cook existed three years, and then Mr. Charles H. Lounsbury was admitted as partner. This changed the firm to Scofield, Cook & Co. In the spring of 1836, Mr. Cook sold his interest to his partners, and they continued the business as Lounsbury & Scofield for one year, Mr. Cook during that time representing Stamford in the State Legislature.

In the fall of 1866, Mr. Cook erected the manufactory used by the firm Cook & Lounsbury. This firm was formed in 1807, the members being Mr. Cook and Charles H. Lounsbury. From that time to the present Mr. Cook has not only been identified with the business, but given it his close personal attention. Under the shrewd management, diligence, and active efforts of the two partners, the demand for their goods has rapidly increased, and their manufactory is today occupying a place among the prominent manufacturing interests of Stamford.

Mr. Cook has, besides being representative, been assessor, and often pressed to accept positions of public trust, but with these exceptions, he has steadily refused them, preferring to attend to his own business rather than that of others.

Mr. Cook was one of the three men in Stamford who had the moral courage to vote for Martin Van Buren as Free Soil candidate for President, and to the same convictions that actuated him then he has steadfastly adhered. He never could see how one working man should try to "lord it" over another, whatever the color of his skin. With these sentiments he has naturally affiliated with Republicanism since it was a political power, and was by that party elected representative. In 1872 he followed his old leader, Horace Greeley,and voted for him for President, returning to his old bearings after thedeath of Mr. Greeley.

Mr. Cook was one of the incorporators of the Citizens' Savings Bank of Stamford, and has been one of its directors since that time. He is also a director in the First National Bank of New Canaan CT.

He is a member and a most liberal supporter of the Universalist Church and has been clerk of the one at Long Ridge ever since he was twenty-one years old.

Sept. 29, 1851, he married Mary L., daughter of George and Louisa (Scofield) Lounsbury. Their children are Nettie L., who married Benjamin M., son of Rev. F. H. Ayres, of Long Ridge, and Mary W., aged now eight years."