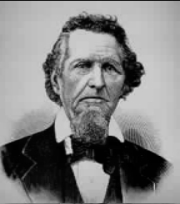 "The ancestry of Nathaniel E. Adams were not only men of repute in New England, but the line goes back and develops itself in many a page of history in "Merrie England." The full genealogy of the Adams family is now in course of preparation, and we will not trace the lineage farther then to John, grandfather of Nathaniel, who was a worthy citizen of Greenwich, CT. His son John married Mary Hobby, and Nathaniel E., his son, was born in Greenwich, July 7, 1807.

Nathaniel passed his childhood on the old homestead with his parents, and was apprenticed at an early age to a carpenter in Stamford, to learn, asin those days expressed, the art and mystery of carpentering. He was an apt student, learned his trade thoroughly, and began business for himself before he was twenty-one, but, by engaging with a drunken partner, not only lost his hard-earned capital, but became indebted four hundred dollars to various persons. That was a larger amount than many times that sum would be now, for he was compelled to go to New York, where he obtained work from Locke & Coleman, on Scuddder's Museum, but was forced to borrow money to provide for the necessities of his family, and it was two years before the last of the indebtedness was paid. He remained in New York ten years, then, returning to Stamford, he became a coal and lumber dealer, and commenced to deal in real estate by purchasing a lot of land and laying it out, in1830, into lots, surveying new streets, and building and selling houses, so that where was a wild waste of almost valueless land is now a beautiful portion of the village of Stamford. Mr. Adams is emphatically a self-made man, and has invariably been the advocate of law, order and improvement. He is of winning manners, of great and pleasing conversational powers, and possesses a remarkable faculty of applying poetical quotations to any subject under conversation. His memory is wonderful and his reading extensive. He has a large fund of humor, and is of a most cheerful temperament. In 1864, carrying letters of introduction to President Lincoln from ex-Gov. Minor, ex-Congressman Smith, and others, he went to Washington, had a long and pleasantinterview with Mr. Lincoln, and finally leased a cotton plantation of sixteen hundred and fifty acres in Louisiana from the United States Government, and commenced raising cotton. His peculiar frankness and honesty won him at once the friendship of all, even the most bitter rebels, and his plantation was protected by the Confederate troops. The experiment promised to be a success, financially and otherwise but through a defaulting partner and the ravages made on the growing crop by caterpillars he lost ten thousand dollars. After this disastrous termination of his venture, Mr. Adams returned to Stamford,and has ever since resided there, having, notwithstanding his loss, a very handsome competency. He is a member of the First Congregational Church ofStamford, and has been for more than forty a deacon. With a strong love for children, he has been an ardent Sabbath-school worker, both as teacher and superintendent.

Mr. Adams cast his first vote as a Democrat, for Simeon H. Minor for member of Legislature, and by it gave him his majority of one. Afterwards, Mr. Adams became a Whig, then a Republican. He was for many years, and until disqualified by age, a magistrate, and by his decisions and actions in the capacity drew warm encomiums (expressions of glowing and warmly enthusiastic praise) from the best citizens.

Mr. Adams married Sarah Ann Dixon, of an old Stamford family, March 23, 1829. She was born in New York, May 23, 1806. Their children were Charles W., James E. (deceased), Julia H. (who is the widow of Brevet Lieut-Col. Alfred M.Powell, U.S.A.), James E. (deceased), John, Franklin."