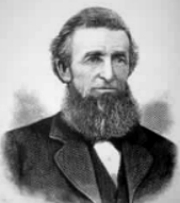 "In the early records of Stamford appears the name of Clason, Clayson, Clawson,--all different spellings of the same name. At the assignment of land by lot, Dec. 26, 1699, there were sixty-nine lots drawn by seventy-five persons. Of these Stephen Clawson drew the first.

Among the soldiers of the Revolution were Nathaniel, Isaac, Samuel, and Stephen Clason. From that day to the present has the Clason family been domiciled in Stamford, and now the historian records with pleasure the leading incidents in the life of one who may justly be called a representative man of the family.

John Clason, son of Benjamin and Nancy (Ayres) Clason, was born Sept. 8,1825. The educational advantages of a farmer's son, in those days,were mostly comprised in the three months' winter term of school in the country school-house. Such, John received while he remained at home. He Commenced the active duties of life, however, for himself at the age of fifteen, and, as he could afford it, supplemented, from time to time, his early education by instructions under John Lyell, A.M., a graduate of the University of Edinburgh, Scotland, with a view to civil engineering as a profession, for which he thoroughly prepared himself in the mathematical branches. In 1851 he entered the store of Alanson Studwell at Stamford, as a clerk, and stayed one year. For about two years subsequently he was a teacher in the public schools.

About 1844, Mr. Clason purchased a farm, engaged in farming and dealing in native timber, and enjoying the reputation of being the most successful farmer (financially and otherwise) Stamford had ever produced, until about 1862, when he sold his farm, continuing, however, farming operations on a small place of twenty acres, which he has brought to a high standing in productiveness.

Mr. Clason has held all of the local offices connected with schools in the town, and was member of the Board of Education for four years, resigning his position when elected judge of Probate. He was elected member of Legislature from Stamford in 1851, and was the youngest member of that body. In 1854, he again represented his town in the Legislature, and from 1871 to 1875, five years, held the same position, a length of continue service, in that capacity, unprecedented in Stamford since the adoption of the Constitution in 1818. In 1855 he was elected assessor, and held that office twenty-five years. He was elected judge of Probate in 1876, and re-elected in 1878, and has rendered entire satisfaction in the performance of his judicial duties. He has held, also, various other town offices, such as justice, etc. He was for several years a director of Stamford Savings Bank, resigning that office, in accordance the law of the statute, to become a director of Stamford National Bank. In politics Judge Clason was originally a Whig, afterwards a Republican. He is a generous supporter of all churches, societies, and enterprises that tend to elevate, improve, or educate mankind. In the Legislature, Mr. Clason was emphatically, a working member, clear-headed and practical, and in committee work a patient and careful investigator, opposed to all "jobbery" and with judgment rarely at fault. Strictly honorable and upright, the repeated number of times his fellow-townsmen have called him to office evidences their appreciation of these qualities. He has never married."