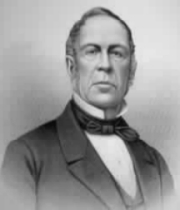 "Isaac Quintard, son of Isaac and Hannah (Palmer) Quintard, was born in Stamford, CT, May 15, 1791. He carries the name of the first pioneer of the family to Stamford. This Isaac Quintard, as his gravestone in the northeast corner of the Episcopal burying ground testifies, was "born in Bristol, in Old England" and died in 1738, age forty-two years. He was of French Huguenot ancestry, and the descent carries with it all of the firm integrity, devotion to principle and chivalric bearing of its origin. The first appearance noted in the records of Stamford of the name is a sale of land from Robert Embrow to Isaac Quintard of New York City, merchant, under date of Oct. 1, 1708. The married of Isaac Quintard and Hannah Knapp was recorded in 1716.The chain of genealogy is through Peter, born in 1720, who married in 1761, Elizabeth De Mille, and his son Isaac, whose third son, Isaac, is the one whose portrait is shown on another page. He now occupies the house where he was born, and is residing on land for year in possession of his family. Of the seventy-seven families residing in the limits of the borough in 1800, the only one in actual occupancy of the same lot and residence is that of Mr. Quintard.

From the first settlement of the family in Stamford, it has been prominently identified with its interests.

Isaac Quintard was captain of the first company of militia in Stamford, organized in 1775. In 1738, Isaac Quintard was one who signed (with many others) an appeal to the General Assembly of Connecticut to deliver the members of the Episcopal Church from paying tithes to the Congregational Church.

Mr. Quintard married Mrs. Clarissa (Hoyt) Shay. They have had five children--George W., a leading business man of New York City; Charles Todd, Episcopal Bishop of Tennessee; Edward Augustus, a heavy coal operator; Mary C. (Mrs. Rufus Hoyt); and Virginia (Mrs. Augustus W. Payne, of New York City).

For many years he has occupied either the position of vestryman or warden of St. John's Episcopal Church, Stamford.

In early life Mr. Quintard was a Whig in politics, and on the organization of the Republican party became an unswerving supporter of its principles.

In all the relations of life Mr. Quintard has ever been an honest, refined, and unassuming gentleman. He has had for years the companionship of the better classes of this country and Europe, and can look back on an unusually long life without a wish to alter or erase one act inscribed on the tablet of memory, and has the satisfaction of knowing that his descendants are honored with the esteem and confidence of all who know them, and are occupying positions of exceptional trust, honor, and worth, and filling their places with marked ability."