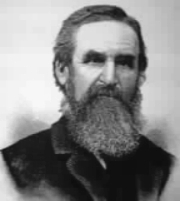 "Charles C. Lockwood, son of Ebenezer and Polly Lockwood, was born Aug. 26, 1823, in Stamford, CT. His father was a farmer and stock dealer. He also was born in Stamford. Mrs. Lockwood died when Charles was three years old. After remaining with this father till he was about twelve years of age, Charles went to Olean, Cattaraugus Co., NY with a cousin, Dr. Andrew Mead, and attended school two years. Returning to his father's house in Stamford, after a short attendance at school, he shipped as a common sailor on a vessel leaving New York. Following the sea two years, he returned to Stamford and taught district school for two years, and then engaged in the cattle trade with his father, buying cattle in Chicago, and other points in the West and New York, State, and shipping them to various point in the Eastern States. After two years' connection with his father, he engaged in the business on his own account.

In 1858, while shipping cattle from Chicago, Mr. Lockwood was injured on the New York Central Railroad, from which injuries he has never fully recovered. He was going along the track, at night, looking for a number of a car containing some of his cattle, when he fell into a road running under the track, and, among other injuries, received such a shock to his nervous system that his eyes never have had proper sight since. As soon as he could attend to business he instituted a suit for damages against the railroad. This suit lasted fourteen years, going from court to court, and from district to district, until Mr. Lockwood received a decision from the United State Supreme Court awarding him fifteen thousand dollars damages. This decision settled a question never before adjudicated, that the release signed by drovers to obtain transportation on a railroad does not exonerate the company from damages for injuries arising from their own neglect. To successfully combat such a gigantic corporation, and carry on a case for so many years, required a will, an energy, and a persistency which shows Mr. Lockwood to be a person on no ordinary caliber. Men eminent in the law have said that there was not one other man in America who would have done this.

Since that decision was given Mr. Lockwood has lived on the old farm, near his place of birth, and is considered a live, progressive farmer, and, with his intelligent family, is making what may well be termed a typical New England home. Dec. 30, 1851, he married Eliza A., daughter of Elder E.S. Raymond, a Baptist clergyman of Westchester Co., NY. She died Jan. 17, 1856. Their only child, Charles Stanley, is also dead. April 11, 1861, he married Anna Rosselle, daughter of Nicholas and Elizabeth Rosselle, of Lewis Co., NY. Their daughter Clara was born May 23, 1870. Mr. Lockwood was an old Henry Clay Whig, casting his first Presidential vote for that statesman. Since the formation of the Republican party he has acted and voted with it."