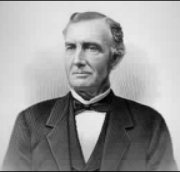 "Alfred Hoyt was born in Stamford, CT, Jan. 13, 1813. He was the only son of Silas and Charlotte (Smith) Hoyt. His family has for years been accounted one of Stamford's worthiest. Rev. Mr. Huntington says, in his "History of Stamford" of Mr. Hoyt's great-grandfather, "Abraham Hoyt, son of Benjamin, who was the son of Benjamin, who was the son of Simon, the pioneer, was born in Stamford in 1704. He was a man of solid and substantial worth, and was much in public life. He was also an active member of the Congregational Church. His descendants are very numerous, and they have been as enterprising as they are numerous." Simon Hoyt, or Hait, was doubtless one of the earliest settlers in the town, dying here in 1657.

Silas Hoyt, grandfather of Alfred, was born March 2, 1738-39, and died in January, 1825. He served in the Revolution, was selectman and reared a large family, and built the house in which Alfred now resides. Alfred's father was born in the same place, Nov. 8, 1775. He died March 22, 1852. His wife was Charlotte, daughter of Stephen Smith, Esq., of Stamford. Alfred was educated in the private schools of Stamford. His home has always been where he now resides. Shortly after arriving at manhood his father relinquished to him the management of his business, which, in course of time, was also inherited by him. In 1838, Mr. Hoyt engaged in the West India trade in company with Capt. William Lockwood. This co-partnership existed till 1845, when it was dissolved by the death of Capt. Lockwood, and Mr. Hoyt sold his interest. They first built the "Julia Ann" one hundred tons, and ran her to San Domingo, trading in pineapples, etc. They succeeded the "Julia Ann" with the barque "Texidor" two hundred tons, and that by the "Henry Delafield." One of these vessels was wrecked, and while another one was building, Capt. Lockwood died, and Mr. Hoyt severed his connection with commerce.

Mr. Hoyt has never sought public position, but has been willing to take a share of those duties and has held various local offices, and represented Stamford in the Legislature in 1864, 1865, and 1869. He is inspector of votes in the First National Bank of Stamford, and has been for years.

Mr. Hoyt believes that every citizen is interested in every election, and since he was of age has not failed to vote at a State of Presidential election. In politics he was an Old-Line Whig, but since the formation of the Republican party has voted and acted with that.

He is an attendant of the Congregational Church and a liberal supporter of it.

Mr. Hoyt married, Nov. 4, 1868, Miss Emily Knowlton, daughter of Rev. Farnham Knowlton and Sarah (Ingersoll) Knowlton, of Greenwich. Mr. Knowlton graduated at Hamilton College, New York, in 1825, and for many years was an acceptable Baptist clergyman. Mrs. Hoyt was born in Stanwich, town of Greenwich. Her great-grandfather and his brother lived in Ashford, Conn. Both were officers in the American army of the Revolution. One was captain; the other, colonel. The latter was killed at the battle of Harlem Heights. The family has ever been patriotic and brave. Gen. N. B. Lyon, who fell in the late civil war, and whose death was so much regretted, was a cousin of her father."